Shift Happens - Nearly a Quarter of Nanaimo Houses Reduced in Price
Posted by Scott Lissa on Tuesday, May 24, 2022 at 7:24 PM
By Scott Lissa / May 24, 2022
Comment
Shift Happens
21% of Nanaimo Houses Have Reduced Price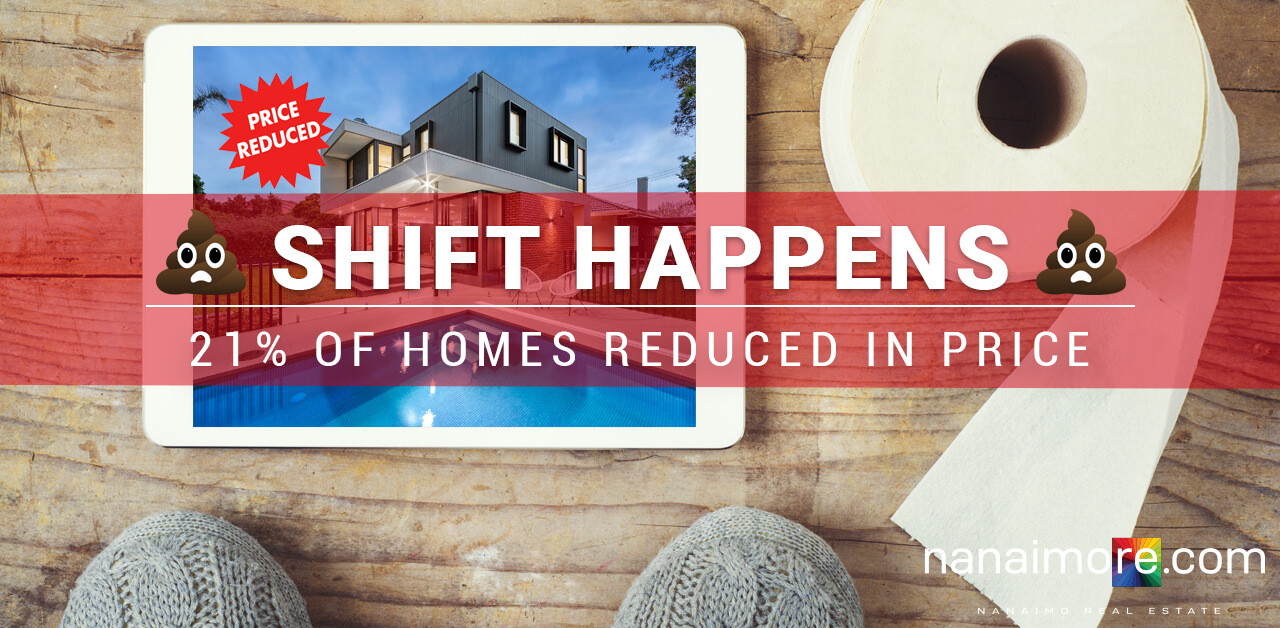 The market is beginning to shift, affecting home sellers in Nanaimo and surrounding areas. We've been in a booming market for five years, and due to the aggressive moves from the Bank Of Canada, we may be at the end of this market cycle.
We check price reductions three times a day in the hopes of finding our homebuyers a deal on a home that was overpriced when initially listed on the market. Over the past two years, these price reductions were rare as borrowing was inexpensive, and home supply was low. Now that mortgages have become more expensive, I see 5-10 price reductions a day.
Due to the increased mortgage rates, far fewer buyers can afford the prices set by home sellers in Nanaimo. If you're listings your home for sale with the expectation that you will get multiple offers, you are setting yourself up for disappointment. The supply of homes is growing and the market is shifting towards a buyers market.
Let's look at what a mortgage on a million-dollar house now costs compared to the same time last year:
2021 vs. 2022 Home Payments

| | | |
| --- | --- | --- |
| | 2021 | 2022 |
| Price | $1,000,000 | $1,000,000 |
| Downpayment | $200,000 | $200,000 |
| Interest Rate | 1.75% | 3.5% |
| Monthly Payment | $2,855.46 | $3,581.09 |
In just under a year, the same home will cost an additional $725.63/month. That's is a considerable sum that many people cannot afford. This increase, combined with the inflation rate, is a tough pill to swallow for homebuyers.
Real estate typically trails the stock markets within 6-8 months in negative and positive gains and losses. The stock markets have seen significant losses since March 2020, and things don't seem to be improving anytime soon. These downturns are cyclical and are to be expected. It would help if you considered how much things will drop and for how long. If Real Estate follows the stock market, we should expect significant downturns in prices in the next 3-4 months.
If you're planning on selling your home, what should you do? The answer is based on what your needs are regarding your home. If you need to sell because you're moving away, need a bigger house due to children, or downsize your home because you're retiring, the time to sell is now! Don't hesitate. You're not going to find a better price to sell your home for roughly three years, and you could be trapped in your current circumstance if you wait too long.
Suppose you're speculatively selling your property because you want to see a profit. It's time to sit out this real estate cycle. You're part of the market segment that will suffer from FOMO, Fear Of Missing Out. FOMO sellers have missed the boat and need to reassess what they hope to accomplish in listing their homes because their expectations are based on a real estate market that no longer exists.
So what's to do if you plan to sell your home this spring or summer of 2022? Set your expectations that it will take much longer to sell and make sure you're putting the utmost effort into getting your home ready to sell. Here are some helpful hints to get your home ready to compete in the 2022 real estate market in Nanaimo:
Touch up all walls and baseboard with paint as needed.
Work on the curb appeal of your home with landscaping and gardening.
Have a style consultant like Finishing Touches help prep your home for photos.
Set a showing schedule to benefit the buyers' time during the day and after work.
Make sure you have video, floor plans, and professional photos completed.
Recently Reduced Homes for Sale in Nanaimo
See the latest homes to reduce the price due to no offers being received.
Contact Us
If you'd like to discuss listing your home in 2022, don't hesitate to contact us for a consultation. We believe in providing sellers with information, not pressure tactics. Whether you're two months or two years away from selling or buying real estate, we're here to help.