Nanaimo Real Estate Market Report October 2022
Posted by Scott Lissa on Thursday, November 3, 2022 at 9:11:39 AM
By Scott Lissa / November 3, 2022
Comment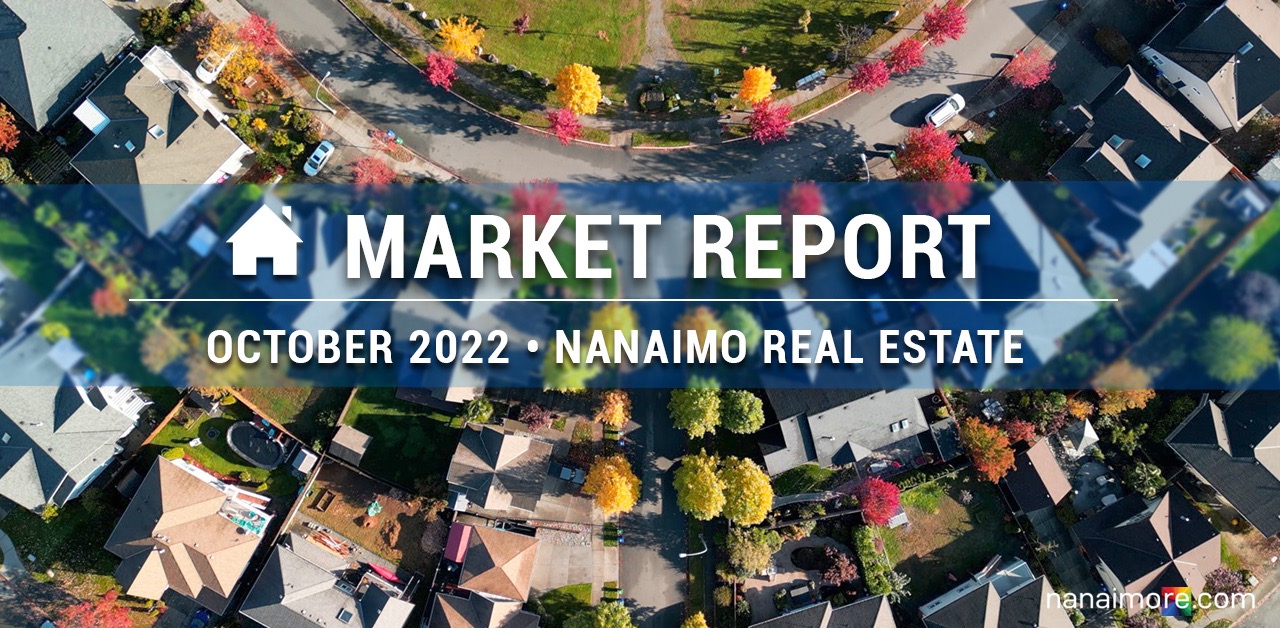 Sales Increase as Prices Decrease
Buyers Return to the Market for a Deal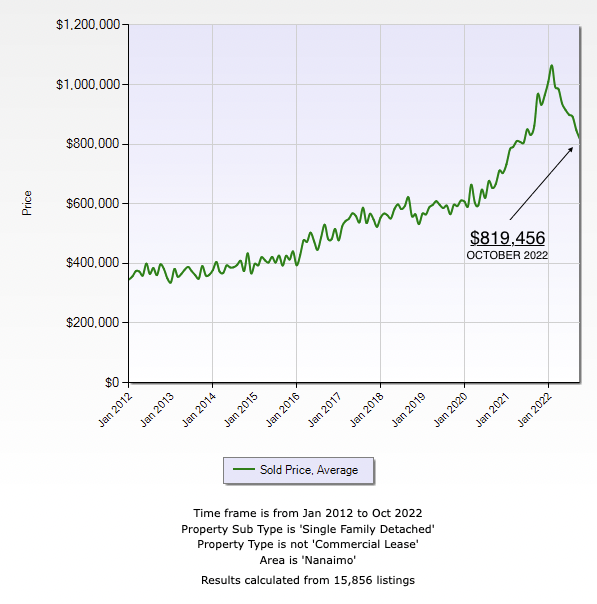 As the Fall season arrives, we begin the annual slowing of the real estate market due to seasonal interest. This should exacerbate sales numbers, but the monthly statistics for home sales in Nanaimo do not reflect this assumption. October has been an exciting month for Nanaimo Real Estate as buyers and sellers begin to find common ground on the price of a Single Family home.
The Interest rate Increase forced price reductions for single-family homes in Nanaimo. With the cost to borrow increasing significantly in Canada, home sellers are coming to terms with their homes' current real estate market value. Many still list their homes from 5%-10% too high, requiring one or more price reductions to achieve a sale. Miscalculating the listing price causes increased days on the market, lower total sale price, and increased seller fatigue due to prolonged anticipation (keeping the house clean for strangers).
Decreases in tourism, annual holidays, and cold weather all depress the housing market during November, December and most of January. Due to this predictable decline, many sellers are dropping their prices before they miss an opportunity to sell in 2022. These price decreases have made buyers who've been waiting months for the right price to snap up homes before the real estate market enters its typical hibernation during the winter months.
Average Sale Price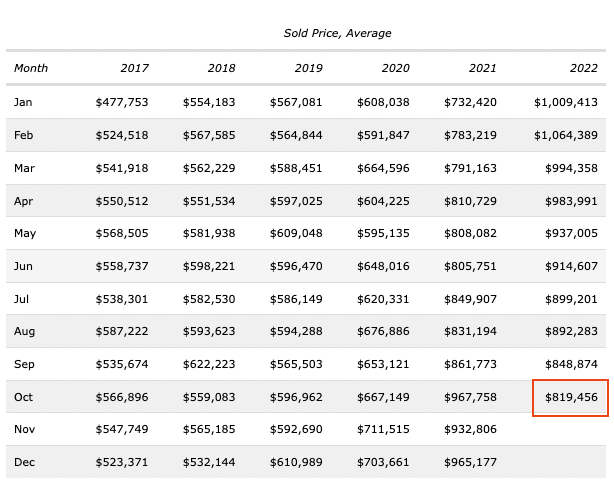 Nanaimo continued to see the average sales price of a single-family fall to $819,456 in October 2022. A decrease of roughly 3.5% from the previous month and a nearly 23% drop from the average prices sold in January 2022. This is still far from pre-COVID real estate prices but a significant decline, returning the average home price to mid-2021.
Average Listing Price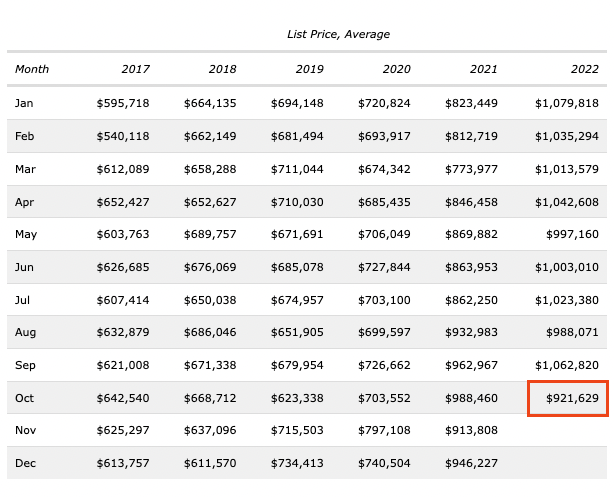 Home sellers in Nanaimo have decreased the average listing price of a home to $921,629 in October 2022. This is a vast improvement from the average listing price of well over $1,000,000 seen throughout 2022 experienced by homebuyers. This number will continue to fall in line with the average sale price as interest rates continue to climb.
Total Home Sales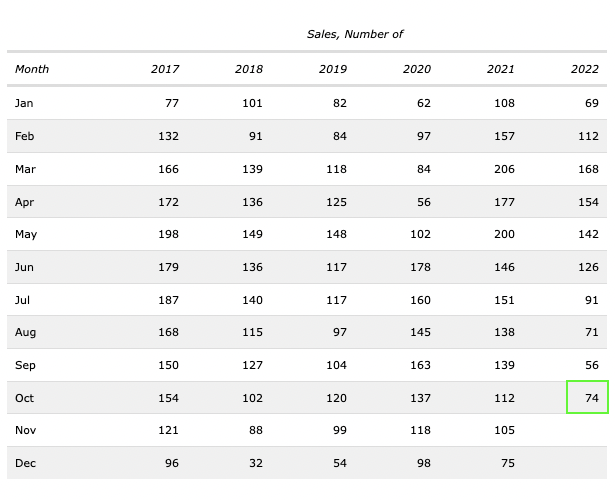 Single Family homes sales increased to 74 sales in October 2022. That's an increase of 32% from September, which is very uncommon. Although this was an unexpected jump in sales, I'd estimate that we'll still be 40% lower in home sales than expected in a typical October. Many homebuyers are sitting on the sidelines, waiting for the perfect time to buy. With this pent-up demand, we could see a small buyer boom in the Spring of 2023.
Homes for Sale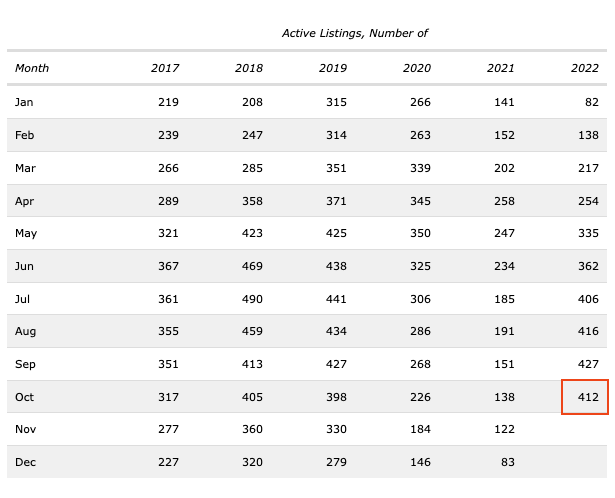 There were 412 homes for sale in Nanaimo in October 2022. This is a slight decrease from September and, statistically, a new average that we're starting to experience in the Nanaimo Real Estate Market. It must be noted that this is still a meager amount of available homes for sale for a truly balanced market. The supply of low-cost homes must be increased significantly to combat the skyrocketing rent and home prices.
Days on Market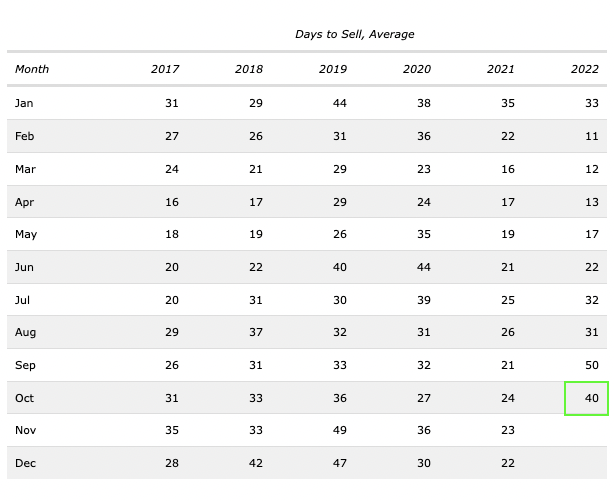 On average, it took 40 days to sell a single-family home in Nanaimo in October 2022. That means homes are selling ten days fast than in September 2022. This is still longer than expected in Nanaimo, but an exciting improvement from the previous month. This could be attributed to buyers trying to purchase before the Bank Of Canada prices them out-of-the-market with interest rate increases.
Average Condo Price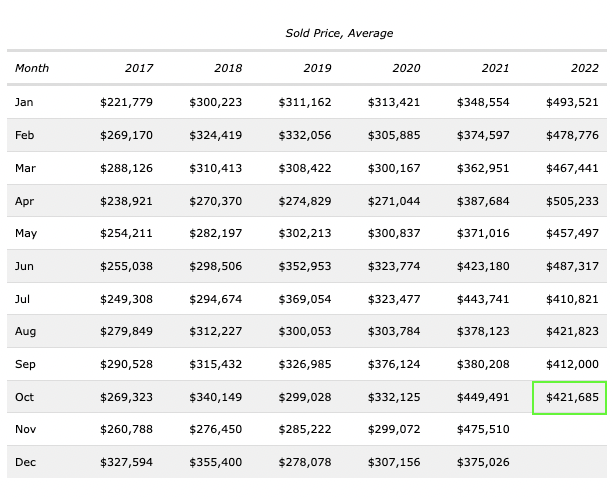 The average price for a condo in Nanaimo Increased to $421,685 in October 2022. Only 13 condos sold in October, a decrease of 5 sales from September. New condo listings continue to fall in October, with only 29 coming on the Market in October.
Average Townhome Price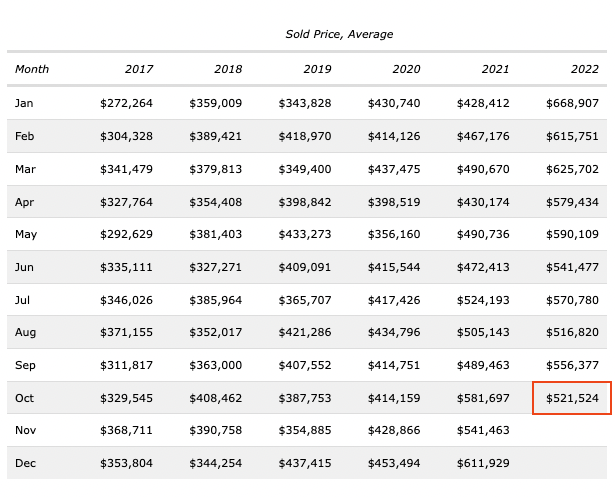 $521,524 was the average sale price for a townhome in Nanaimo during October 2022. These properties' sales are still very low, with only 17 units selling in October. This could be caused by the decreasing number of new listings, with only 27 townhomes for sale in October.
We will likely continue to sell declines in sales and prices during November and December due to seasonal trends. It's possible that in January, home sellers will have a more realistic price for their homes, and buyers may have become accustomed to the new lending rate imposed by the Bank Of Canada. Things always tend to find their centre when the pendulum swings too far in either direction. The only question is when that moment will arrive, and will you be ready for your opportunity?
Nanaimo Cost of Living
Everything is getting more expensive, and these costs are adding up. Learn more about the hidden cost of living in Nanaimo Below.