Nanaimo Real Estate Report November 2022
Posted by Scott Lissa on Tuesday, December 6, 2022 at 10:01:12 PM
By Scott Lissa / December 6, 2022
Comment
Home Prices Near Bottom
Prices could Rise in Spring 2023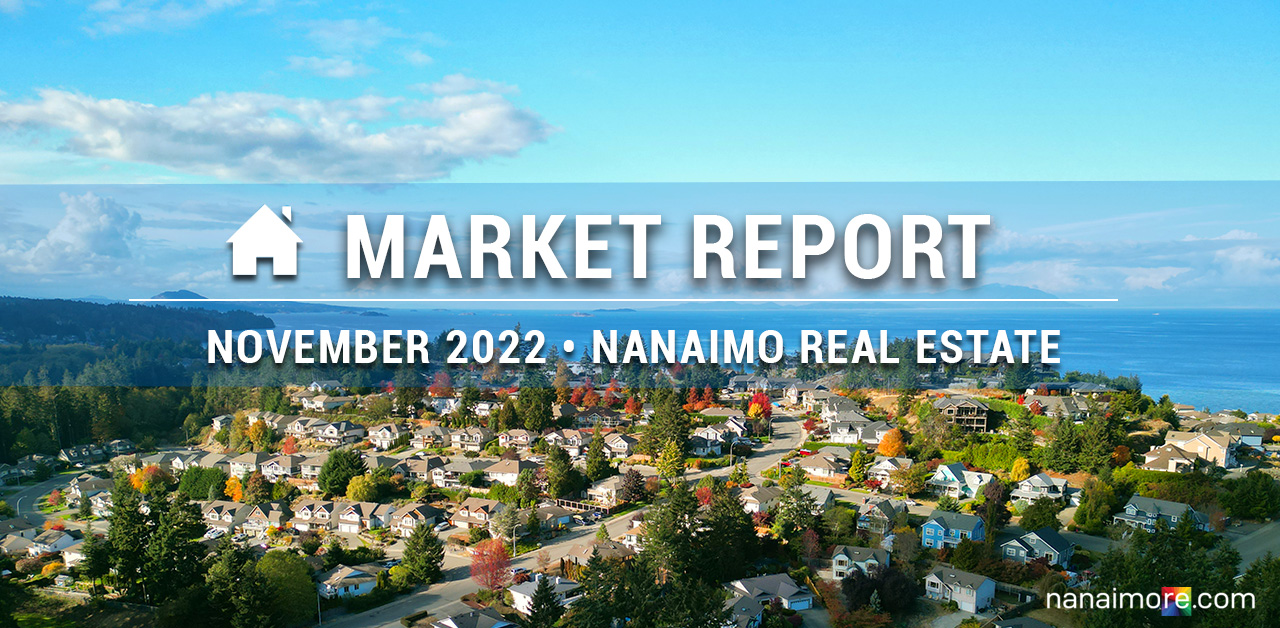 Real estate prices for single-family homes continued to fall in November 2022, but multiple anecdotal stories from realtors of aggressive buyers and multiple bid scenarios persist. The average cost for a single-family house in Nanaimo fell to $796,364, a 17% decrease from November 2021. Homes that have been sitting for weeks without any offers have been quickly sold, catching many people off guard.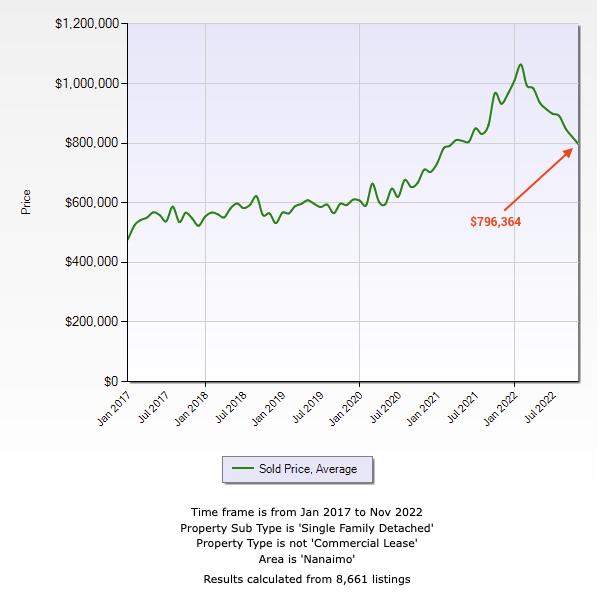 The colder months of the year are typically slower, but many buyers are waiting for the perfect time to purchase. These buyers are hoping to align falling prices with rising interest rates, and it seems this convergence is fast approaching.
It is predicted that the Bank of Canada will only raise interest rates twice over the next few months. After this, we can expect homebuyers to accept the current market rates as they align with regional home prices. Undoubtedly, we'll still see a slight pricing drop as the average home price is far too high for the average home buyer to afford a mortgage, but it's unlikely that a significant price drop in Nanaimo will occur.
This means the great real estate crash some hoped for will not come to pass. Homes will remain out of reach for many people on Vancouver Island and could make rentals too costly to stay in Nanaimo. Hopefully, this will not be the case, but the outlook isn't good. The NDP government is attempting to improve this situation with new rules affecting the Strata Property Act. Still, this won't be very meaningful without a significant increase in the housing supply from the provincial government.
Many economists predict a balanced real estate market, returning in early 2023. But due to the dwindling house supply and increasing immigration, we could see house prices climbing again by the summer of 2023. Though this will be at a different pace than during the Covid pandemic, many buyers may miss out on the best time to purchase over the next six months.
AVERAGE SOLD PRICE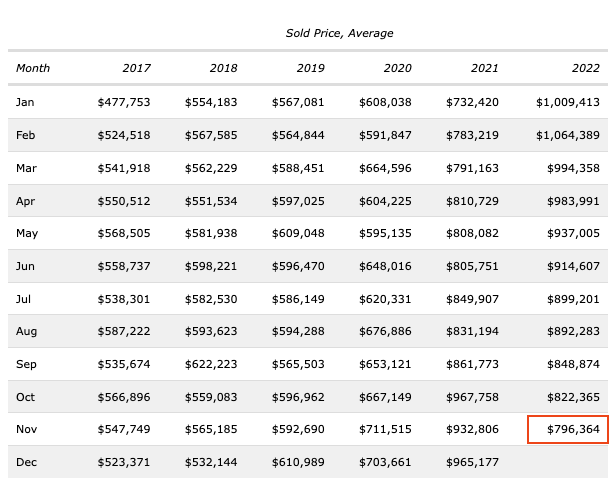 As mentioned above, the average sale price for a single-family home in November 2022 was 796,364. This is a $25,000 drop from the previous month. It's common to see moderate price decreases in the latter part of the Fall season. This trend is likely to continue until late winter or early spring.
TOTAL SALES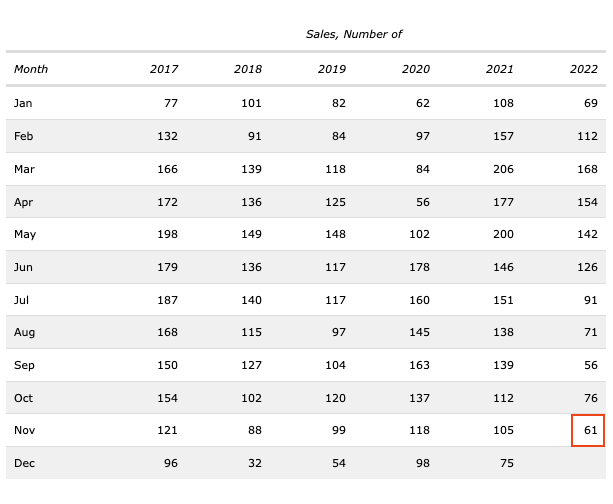 November had only 61 sales of single-family homes in November, which is a decrease from October of 16 homes. Interestingly, this is still a more significant number of home sales the September, which is irregular. Compared to November of 2021, there's over a 40% decrease in the number of homes sold in Nanaimo.
NEW LISTINGS FOR SALE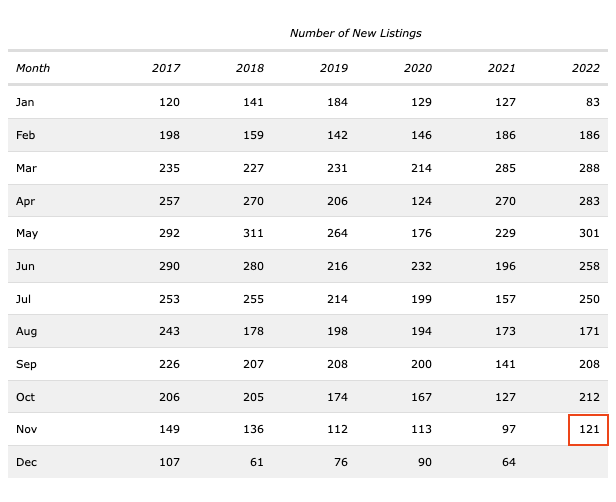 Only 121 new houses were listed for sale in November 2022. This is a substantial decrease from the proceeding months, meaning the housing supply drops substantially from the peaks seen earlier in the year. However, this is more in line, if not lower, than seen during the balanced real estate market experienced in 2018 & 2019.
DAYS ON THE MARKET TO SELL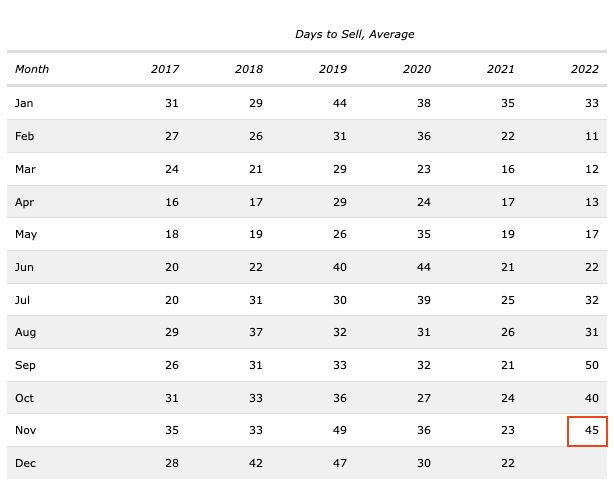 On average, it took 45 days to sell a home in Nanaimo in November 2022. This is an increase of 5 days compared to the previous month and 22 days longer than November last year. In a balanced market, a seller should expect to receive an acceptable offer on a single-family home in just over 30 days. It's too early to tell, but spring 2023 could be when the real estate market in Nanaimo and Vancouver Island Returns to Normal. Even in the past seven months, real estate demand has been relatively strong due to the high number of people who relocate to Vancouver Island once homebuyers become accustomed to the new mortgage rates, we're likely to see an increase in home prices by 5-8% in 2023.
AVERAGE CONDO/TOWNHOME SALE PRICE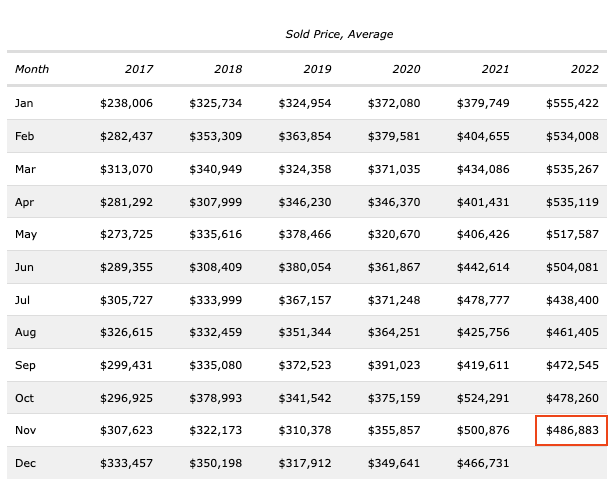 Condos and Townhomes saw a drop in prices for a few months but have been climbing consistently for the last four months. The Average sales price is yet to return to the peak seen at the beginning of the year. However, it won't take long to reach new heights if this trend continues into 2023.
In November 2022, the average sales price of a condo/townhome increased to $486,883. This is an over $8500 increase from the previous month and only $13,000 less than the average price sold in November of 2021.
BEST TIME TO BUY
The best buying time will likely occur in the next 3-6 months if you've been waiting out the market to see the lowest possible price. There are rumours that the Bank of Canada is considering lowering the interest rates in mid to late 2023, which could raise prices faster than many expect.
There will likely be fewer homes for sale during this time as builders have had a tough time over the past ten months and likely will decrease production into 2023. Furthermore, current owners that bought at significantly lower interest rates will not want to sell to incur higher interest rates when compared to what they're currently paying.
For now, here is the best advice I can give to homebuyers. Don't try to time the market. If you need a home, buy what you can afford and nothing more. In time the market always increases, and you see a good return on your investment. As the Famous Ray Brown put it," the best time to buy real estate is always five years ago."
RELOCATING TO NANAIMO
If you're considering relocating to Nanaimo and want to learn more about living the Island life, make sure to check out our YouTube Channel, where we post weekly videos highlighting the good and bad about living here on Vancouver Island. And if you have any specific questions about relocating here, please don't hesitate to contact us directly.