Nanaimo Real Estate Sales at 10-Year Low for July 2022
Posted by Scott Lissa on Tuesday, August 2, 2022 at 2:54 PM
By Scott Lissa / August 2, 2022
Comment
Nanaimo Real Estate Market | July 2022
Lowest House Sales in Over 10 Years
The Nanaimo Real Estate Market in July 2022 has seen a significant shift though prices remain high for single-family homes compared to 2021. Many buyers are waiting for the bottom of the market. They may However price themselves out of the market if interest rates continue to rise to combat the inflation created by poor government fiscal policy.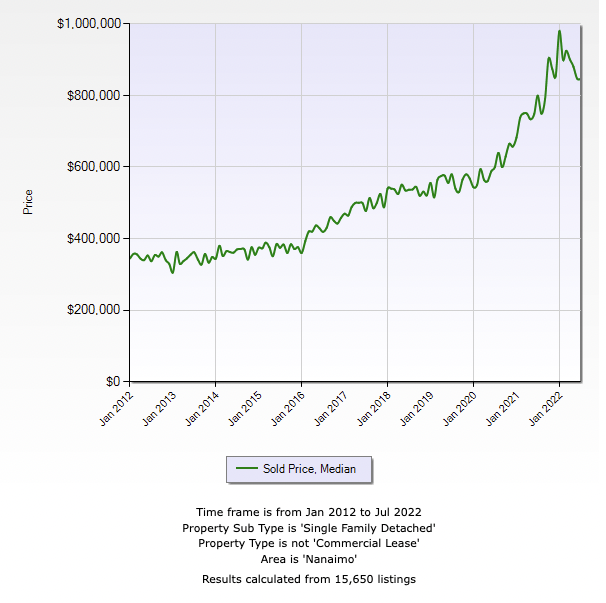 Typically in July, the real estate market heats up as families sell their homes in search of a new house before the beginning of the school year in September. However, uncertain times in the world are causing significant issues for the local real estate market in Nanaimo, British Columbia.
Inflation and the increasing interest rates are the most significant contributors to the decline of the Nanaimo Real Estate Market in July. Inflation rose from 7.7% to 8.1%, which was a hard kick in the guts for both rich and poor. To combat inflation, the Bank of Canada (BOC) increased interest rates 100 base points, making the 5-year fixed rate 4.34%. This is nearly double what homebuyers paid at the beginning of 2022.
Inflation and increasing interest rates are creating an unbearable one-two punch for the finances of Islanders and Canadian citizens. The skyrocketing cost of fuel and food makes daily life very difficult for even the most affluent residents of Nanaimo. And if you're unfortunate enough to have a variable rate mortgage, you can expect your monthly payments to increase and continue to do so for the foreseeable future.
What makes this infuriating is that these issues were self-inflicted. The Canadian Government is printing untold sums of money during the COVID pandemic to save the economy in 2020. This was predicted to create inflation rates unseen since the 1980s. Anyone with a basic understanding of economics was warned of this suicidal spending spree and was ridiculed for their alarmism. Now it seems that these warnings were correct.
Due to finical mismanagement on a country-wide scale, homeowners and buyers are feeling the pinch locally, which is reflected in the real estate statistics for July 2022 in Nanaimo.
Number of House Sales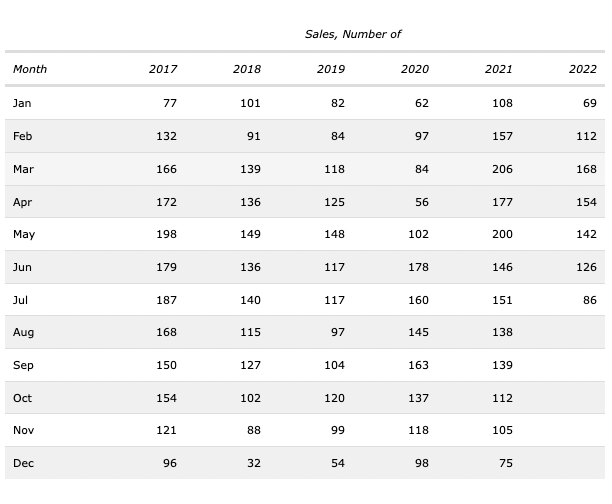 The number of single-family homes sold in July 2022 has dropped by 68% from the preceding month to only 86 houses sold. This is nearly half compared to last year when 151 houses were sold in Nanaimo. Numbers this low have not been seen in over ten years. Homebuyers are uncertain and can afford much less due to the increasing mortgage rates.
Active Houses for Sale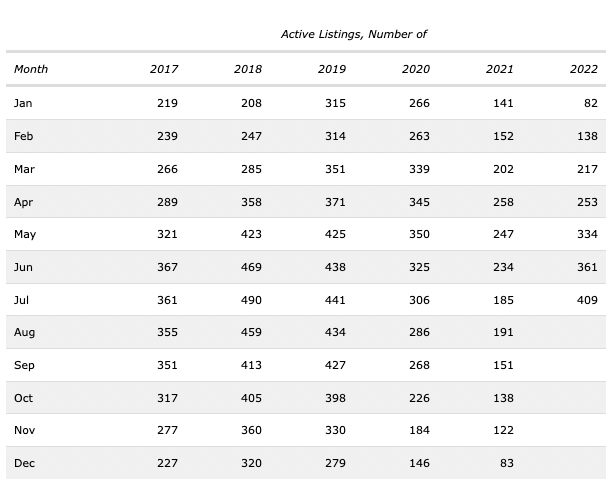 Active listings have spiked in July 2022, reaching 409 homes for sale. This is a 12% increase in available homes for sale in Nanaimo compared to the previous month. Although this number seems high, we are still in a housing supply shortage of which homebuyers in Nanaimo are very aware. But compared to July 2021, the housing supply in Nanaimo has increased by 220%.
Days on Market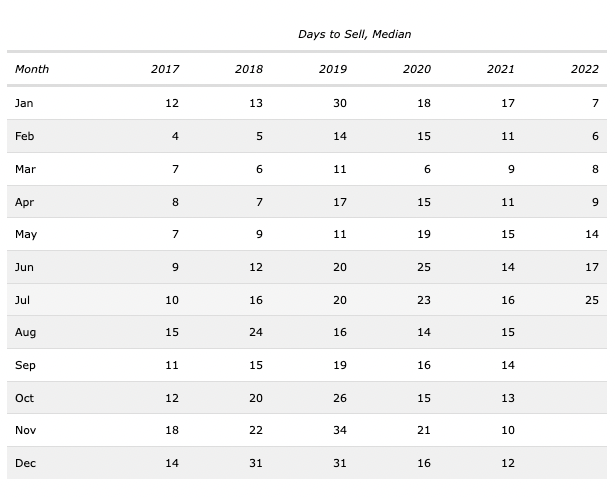 Home sellers in Nanaimo are waiting much longer, hoping to receive an acceptable offer on their house. On average, houses are waiting 25 days on the market, which is the highest in July for seven years. This doesn't mean that homes are not selling quickly if they're priced correctly, but many home sellers do not realize the days of getting multiple bids within 24 hours of listings their home is a thing of the past for now.
Original Price to Sale Price Ratio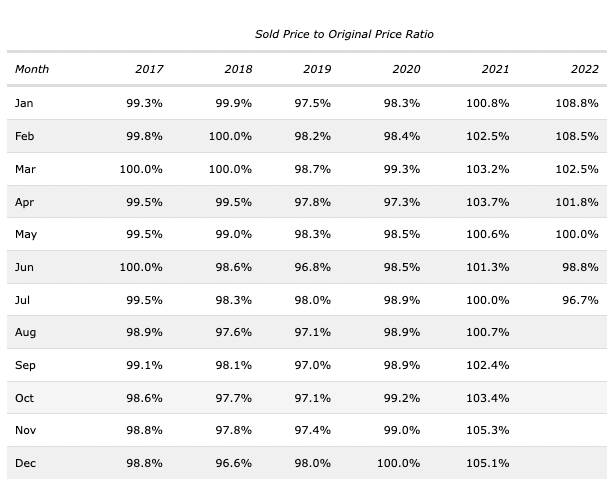 Listings to sales price percentages show how much a home is sold for compared to the price initially listed on the MLS. In July, home sellers in Nanaimo, on average, only received 96.7% of the list price for their homes. This is roughly 2% below the average for July and a 12% drop from the peak in January 2022.
Median Sale Price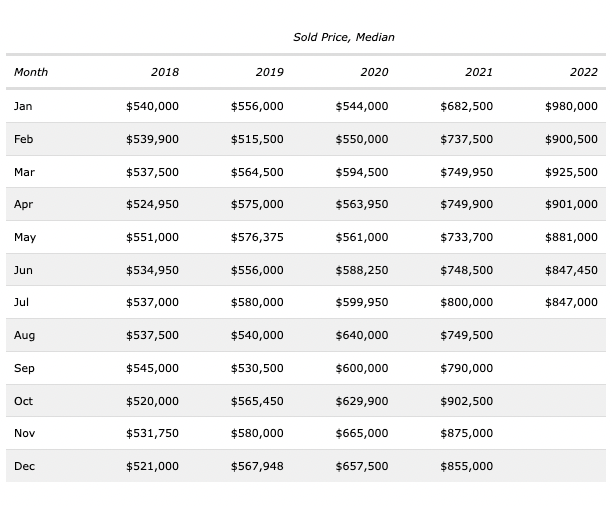 Although the above reference statistics show a dramatic shift in real estate, median prices for single-family homes in Nanaimo seems to be levelling off. In July, the median price for a home in Nanaimo marginally dropped to $847,000 from $847,450. This is a $133,000 drop from January 2022 but a $47,000 increase from July 2021. For the past three months, prices have seemed to stabilize at around $850,000, this may continue to drop if mortgage rates rise any higher.
Where thing goes from here is anyone's guess. The two world superpowers are on edge due to a political visit to Taiwan by the 3rd most powerful politician in America, a new pandemic threatening the globe with a deadly virus, and inflation continuing out of control. Few people know where we're going to end up in 2023. My advice is as follows: stay close to family, only worry about the things you can control, and make sure you are comfortable for the foreseeable future, as it may be sometime before things settle down.
Vancouver Island Community Videos
Latest Price Reduced Homes
Home prices are dropping every day, and this will continue for the foreseeable future. Get the latest updates on price reductions below: