Nanaimo Real Estate Price Correction | June 2022 Market Report
Posted by Scott Lissa on Sunday, July 3, 2022 at 5:00 AM
By Scott Lissa / July 3, 2022
2 Comments
Real Estate Prices decrease again in June 2022
Real Estate Crash is Unrealistic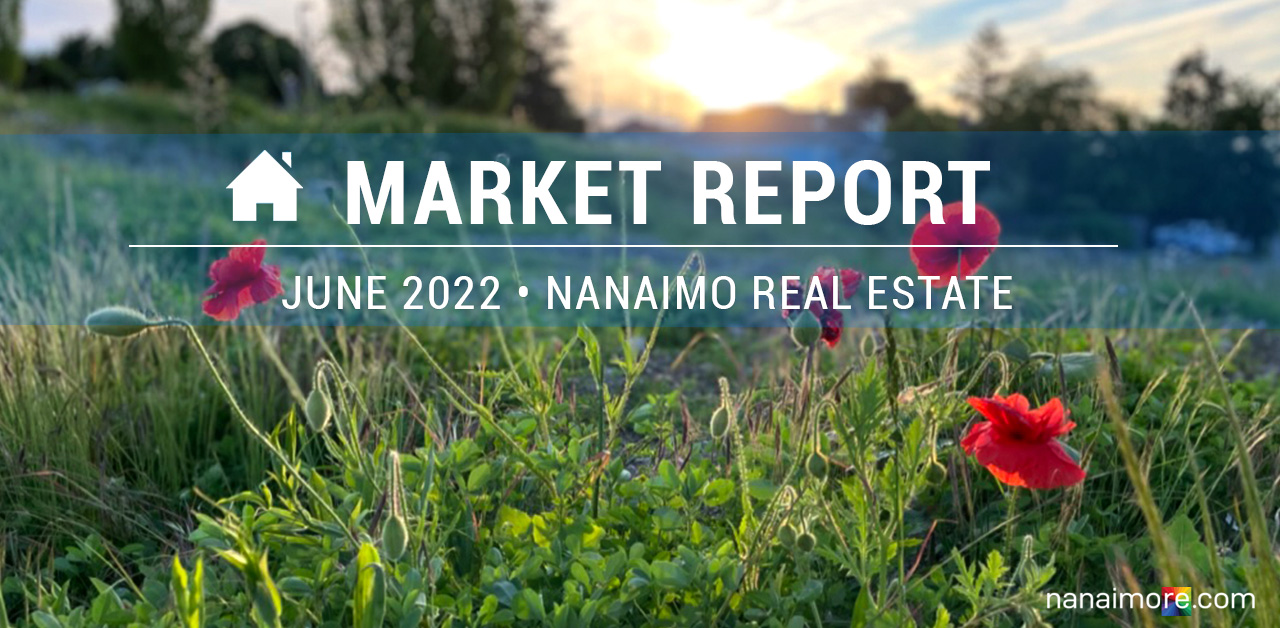 Everywhere you look, people are talking about a real estate market crash in Nanaimo and Vancouver Island. However, we are seeing a correction that is bringing real estate prices back to a normalized level. It seems the COVID pandemic created a perfect storm that drove people to buy the ideal home despite the extended lockdowns that the Government imposed on their people to mitigate infection rates.
In 2020, as the reality of a global catastrophe and the stock markets plunged, central banks started printing money at an unprecedented rate, and interest rates were set at levels never seen before in modern history. Governments started handing out stimulus money to everyone, even if they didn't need financial assistance. All of these factors were known to cause inflation. However, the Government decided it was a worthwhile gamble to stop a stock market meltdown.
With gas and groceries now becoming unaffordable due to inflation and corporate profiteering, central banks have drastically increased interest rates so quickly that another market shock is taking place in real estate. It seems that the free money handed out by governments to save the economy just created an artificial boom that now has gone bust. Much of the pain felt by the Canadian citizens has been produced by the Federal Government's knee-jerk reactions to unprecedented time, and the pain is far from over.
So what does this all mean for housing pricing? On average, home prices increase by 50% over two years in Canada, and economists predict a 24% drop in real estate prices by 2024. This means that all the gains will not be wiped out. However, we will see more realistic pricing in the letter part of 2022 leading into 2023.
On a more local level, we don't expect to see the same amount of decrease. We are still in a housing shortage, and rental prices are rising. This means investors will continue to snap-up properties, families will still need to compete for the perfect home, and retirees will still pay a premium to relocate to Vancouver Island. Nanaimo and central Vancouver Island have always been an anomaly due to the multiple factors that entice people to move to and invest here on the island.
Nanaimo Real Estate Statistics for June 2022
Medain Sold Price

Falling in line with the rest of the world, Nanaimo has seen another decrease in the median price of single-family houses sold in June 2022. $842,500 is the new median price, a 16.3% decrease since the peak in January 2022. However, in June 2022, house prices are nearly $100,000 more than the sale price of June 2021 and $250,000 more than in 2020. So we have a long way to go before returning to prices that may never come.
Total Active Listings (Single-Family Houses)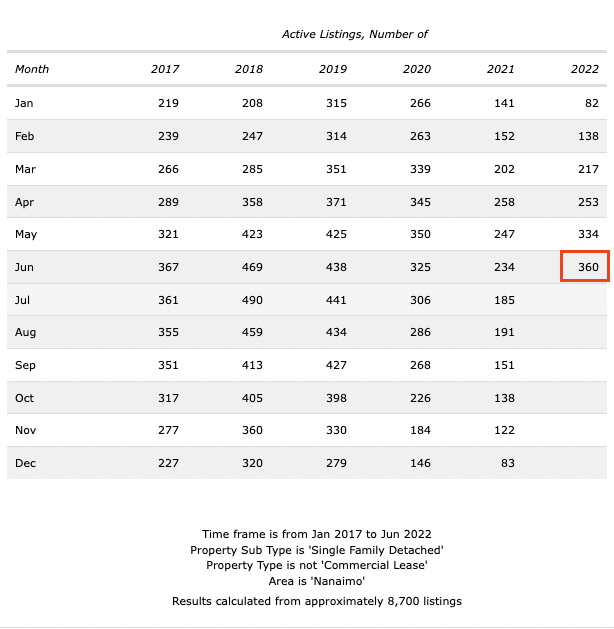 The number of active single-family home listings has been consistently climbing, reaching a new peak in June 2022. Three hundred sixty active houses were on the market, an amount not seen since the beginning of the COVID pandemic. This amount is still meagre but a significant improvement from 2021, giving more balance to the market between supply and demand.
Days On Market (Number of days to sell)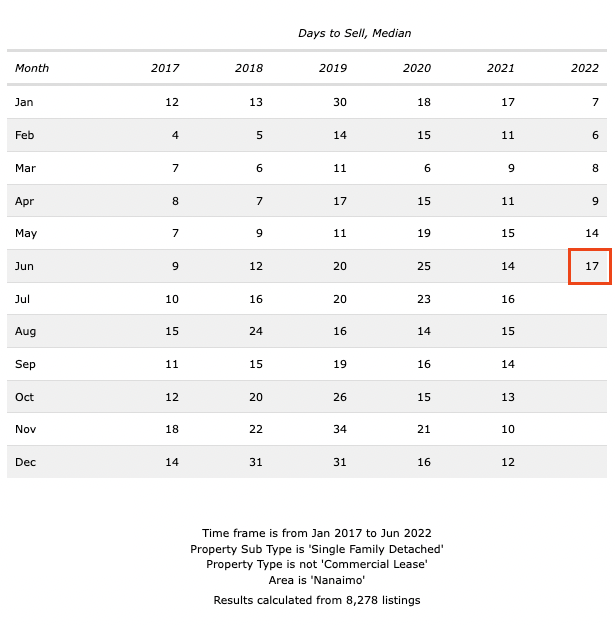 The number of days on the market has more than doubled since January, which has been a shock for many home sellers looking for a quick sale. In June 2022, the average number of days on the market reached 17 days, whereas it was only seven days in January. The increased amount of time to receive an acceptable offer has allowed people time to visit the property compared to other options, as opposed to entering a bidding war for a home they barely got to see
Median Listing Price Increased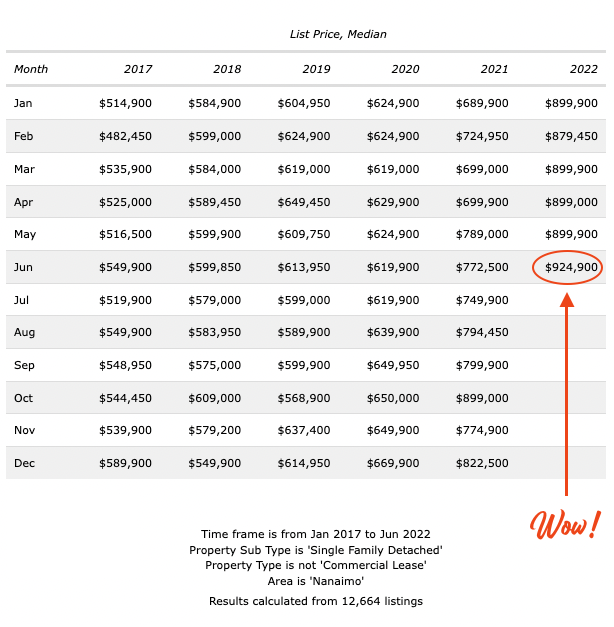 House sellers are still trying to hold onto a real estate market that no longer exists. Though prices are falling and fewer homes are being sold, the median listing price has increased to levels not seen before. In June, the median listing price for a single-family home in Nanaimo reached $924,900. In May of 2022, the median listing price was $899,900. Sellers are living in a world that no longer supports unrealistic pricing as the cost of borrowing has increased significantly.
Expired Listings increasing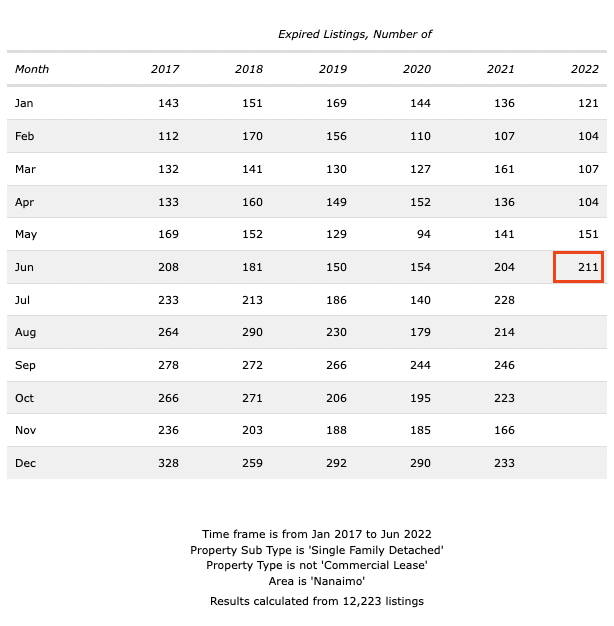 Sellers need to consider a new pricing strategy as expired listings, homes that receive no acceptable offer before a listing contract expires, have been consistently rising for the previous six months. Two hundred eleven listings expired in June 2022, a sharp increase from 121 expired listings seen in January of this year. Gone are the days of insane prices for subpar homes that have not even been cleaned before the showings.
Single-Family Houses Sold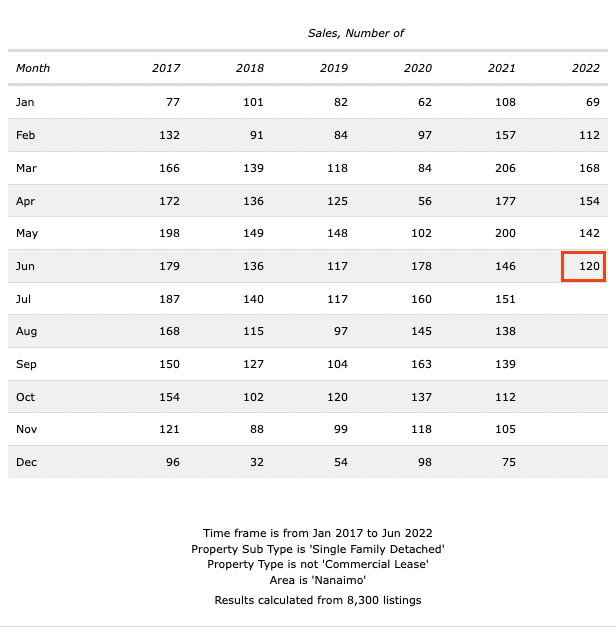 The total number of houses sold in Nanaimo has dropped to 120, 22 less than the previous month. Typically, we see an increase in sales when comparing June to May, but 2022 seems to be the year anomalies become the new norm. This decrease is a sign that the increased mortgage rates have the desired effect by the Canadian Government.
Percentage Achieved of Listing Price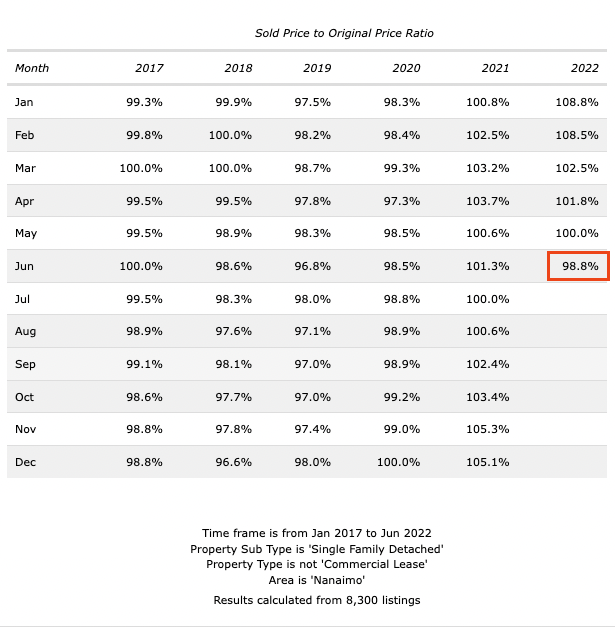 Finally, the sale price to list price ratio is the most telling statistic showing that we're no longer in a seller housing market. In June 2022, the amount paid for a single-family house finally fell below the asking price for the first time in 18 months! 98.8% was the price achieved of seller listing price in June 2022. Please note that some homes are still going over in asking price. However, that is now the exception, no longer the rule.
Second Half of 2022
Time will tell where things go from here. With the increasing cost of borrowing money and people being affected by the mortgage stress test, home prices will inevitably have to fall. The Government of Canada has manufactured this result for a good reason, out-of-control inflation. However, much of this pain from fluctuations could have been avoided if they'd not created this problem in the first place by manipulating the free market via the money supply.
The tumbling of prices may seem incredible to younger homebuyers. Still, people near retirement might need to reassess their golden years as so many rely on their homes as an investment vehicle for retirement. It seems the culture war, though not real, will continue to rage on social media as the perceived cultural gap between young and old widen.
Current homeowners with variable rates that have been artificially low will also have a rude awakening. As their monthly payments continue to increase, lifestyle choices will need to change, or they'll need to sell in a falling house market which is not ideal.
If you have any questions about the current housing market, don't hesitate to contact us or leave a comment below. We've been through this many times before, and the real estate market always increases in value, and there's no reason to assume this market correction will be different. The only question we can't answer is how long. Unfortunately, that will be up to the Federal Government to play stock broker with people's homes.