Nanaimo February 2023 Real Estate Market Report
Posted by Scott Lissa on Tuesday, March 7, 2023 at 11:56:33 AM
By Scott Lissa / March 7, 2023
Comment
March 2023 Market Report
The bottom of the real estate market found in Nanaimo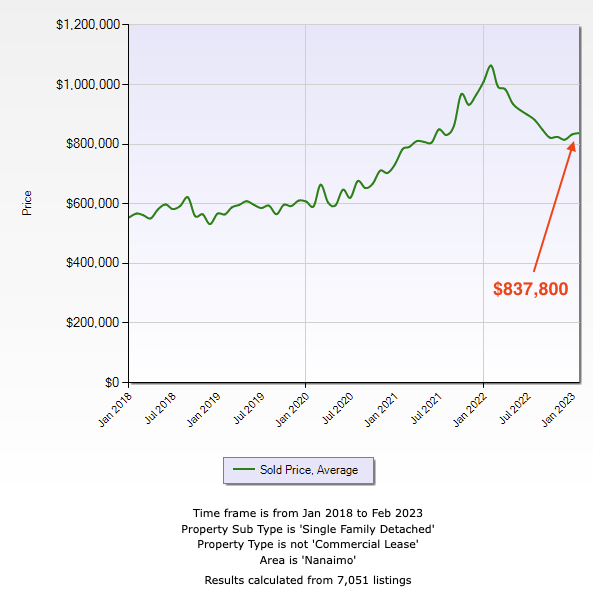 Over the past few months, we've seen an increase in the average sale price of a Nanaimo single-family home. If this trend continues, buyers waiting to purchase at the bottom of the market may have found the perfect time. It is possible to see a return of competitive bidding in the coming months due to a low housing supply.
Since the Bank of Canada increased interest rates to historic levels, most buyers have sat on the sidelines, waiting to see how much this would affect real estate prices. At its peak in 2022, the average sale price of a single-family home in Nanaimo sold for $1,061,000. The bottom was reached in December 2022, when the average selling price for a home was $815,000. That represents a 23% decrease in the average sale price in Nanaimo.
During this time, It was expected that an increase in interest rates would cause many homeowners to have unaffordable mortgage payments. In turn, this would cause a flood of homes for sale, driving down the value of homes and making them more affordable. But this did not happen. We continue to see a low number of houses, condos and townhomes for sale as homebuyers prepare to enter the spring 2023 housing market.
James Orlando, Senior Economist at TD, spoke about this in a recent interview on Money Talk with Kim Parlee. Substantial employment numbers mean that most Canadians could absorb the increased cost of housing. Without any shocks to the economy and inflation forecasted to be near 3% in the coming months, we expect the economy to be relatively healthy in the latter part of 2023.
All of these factors may paint a clearer picture for buyers shortly. If we continue to see low numbers of new listings and increasing prices, bidding wars could return. There's a backlog of homebuyers tactfully waiting for the perfect moment to buy a home. Ray Brown put it best when he said, "The best time to buy a home is always five years ago."
AVERAGE HOME SALE PRICE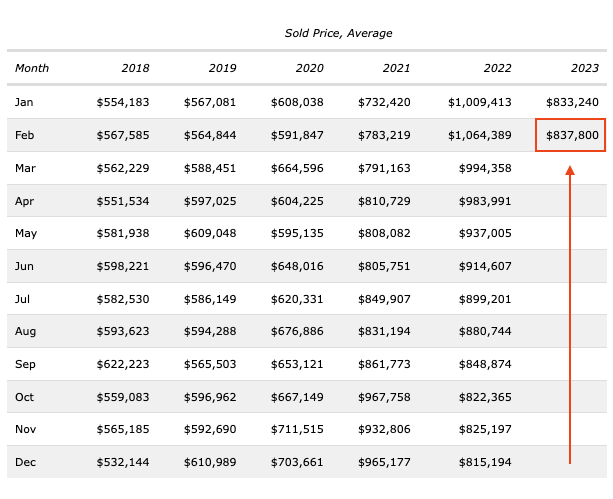 In February of 2023, the average selling price for a Single Family home in Nanaimo was $837,800. This was a less then $5000 increase from the previous month but showed that prices are increasing during one of the slowest months for real estate sales annually.
TOTAL HOME SALES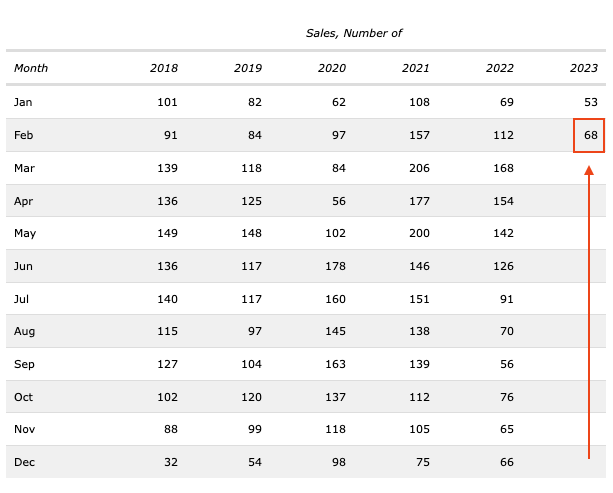 The number of Single Family Houses sold increased by 22% to 68 in Nanaimo. But then, compared to the previous two years, sales have dropped significantly in February and remain lower than pre-pandemic levels.
NEW HOME LISTINGS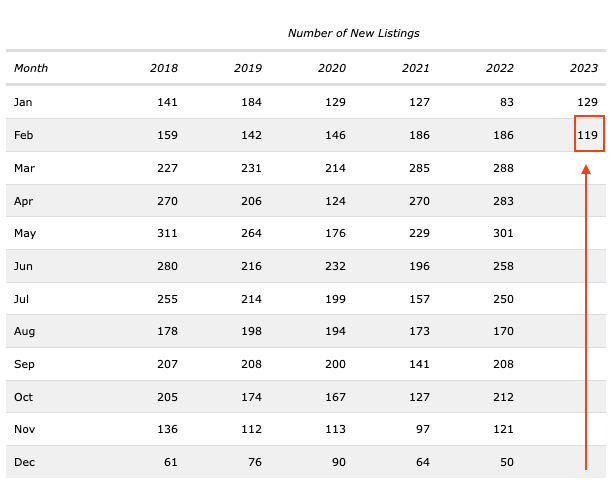 New Listings on the Vancouver Island MLS dropped to 119 single-family homes in February 2022. This is ten fewer then listed in January and 36% less than in February last year. If this continues, a housing shortage could become a real issue shortly.
AVERAGE DAYS ON MARKET
On average, it took 46 days to sell a single-family house in Nanaimo in February 2023. This is a sight improvement from the previous month but nearly four times longer than during the real estate market's peak in February 2022.
Percentage Achieved Of Asking Price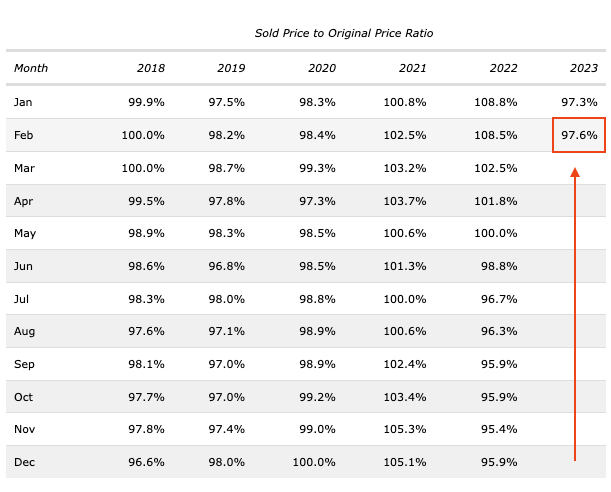 The percentage achieved of the asking price improved slightly in February 2023. However, anecdotally I've seen many homes in bidding wars over the past two months where homes have sold for more than the asking price. It seems that if the house is fantastic, people are still willing to pay a premium.
Average Condo Sale Price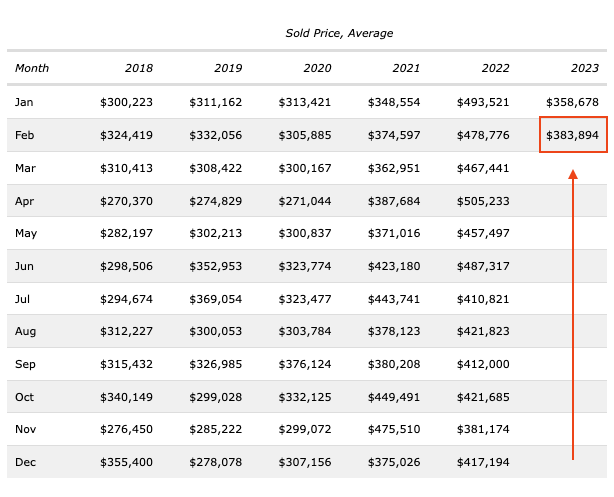 Nanaimo condos experienced a 7% increase in the average sale price in February 2023 compared to January. However, this is nearly a $100,000 drop from last year. The rise in mortgage values will affect condo prices for the foreseeable future.
Average Townhome Sale Price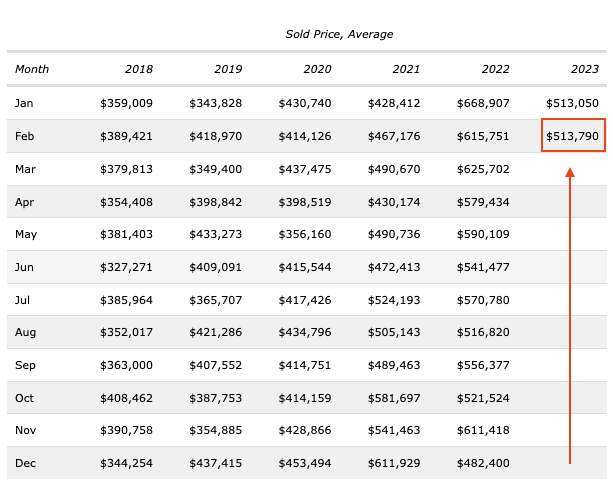 The average sale price for a Townhome in Nanaimo remained flat at $513,790 when comparing February to January 2023. Again, this is a $100,000 drop from last year. Townhomes could see another increase in the coming moments and years due to many retirees relocating to Vancouver Island and looking for a low-maintenance property.
Future Outlook for Nanaimo Real Estate
The Nanaimo real estate market will be improving month over month in 2023. But compared to February 2022, at the real estate market's peak, every statistic has dropped drastically. We've returned to pre-pandemic activity levels with a greater balance between buyers and sellers. Sellers still have a marked advantage over buyers, with the housing supply remaining relatively low. But sellers need to be realistic about their home prices as the cost of borrowing has significantly increased, and far fewer buyers can afford to support a mortgage of that amount.
The best advice I can offer Nanaimo Home sellers is to list your property are the correct price. Listing a home at the correct price is crucial because it can significantly impact the sale's success. Here are a few reasons why:
Attracting the right buyers: Buyers often search for homes in a specific price range, so listing a home at the right price can help attract the right buyers who are able and willing to pay for the property.
Avoiding a prolonged sale: If a home is listed above its market value, it may sit on the market for an extended period. The longer a home sits on the market, the more buyers may perceive it as undesirable or overpriced, which can lead to a lower sale price eventually.
Maximizing profits: Listing a home at the correct price can help sellers get the maximum value for their property and avoid leaving money on the table. An overpriced home may lead to lower offers or a more extended negotiation process, resulting in less money for the seller.
Reducing stress and hassle: Overpricing a home can lead to unnecessary pressure and hassle for the seller. They may need multiple price reductions and marketing campaigns before finding the right buyer.
In summary, listing a home at the correct price is essential for attracting the right buyers, minimizing stress and hassle, maximizing profits, and avoiding a prolonged sale process.
If you'd like to know more about your home value, visit NANAIMO HOME VALUES for an up-to-date price on your Nanaimo home. This can change throughout the year, so you can return periodically to confirm if your home value has decreased.
Regardless of your home's price. I always recommend listing your property after Easter. The weather is significantly better during spring, and more buyers are house hunting. These two factors mean more people will see your home when it looks its best and facilitate a quicker sale. Please note that this is also when many other people will be listings there homes increasing competition. So don't wait too long.
Overall, I expect the real estate market to be hectic in the next ten months. Pent-up buyer demand, a strong economy, increasing immigration and decreasing inflation could create a situation where mortgage rates could fall. If all these factors converge, prices could rise again unless the home supply increases significantly.
Learn More About Nanaimo and Vancouver Island