March 2023 Nanaimo Real Estate Market
Posted by Scott Lissa on Monday, April 10, 2023 at 9:48:49 PM
By Scott Lissa / April 10, 2023
Comment
Spring Sellers Market
Homebuyers are getting competitive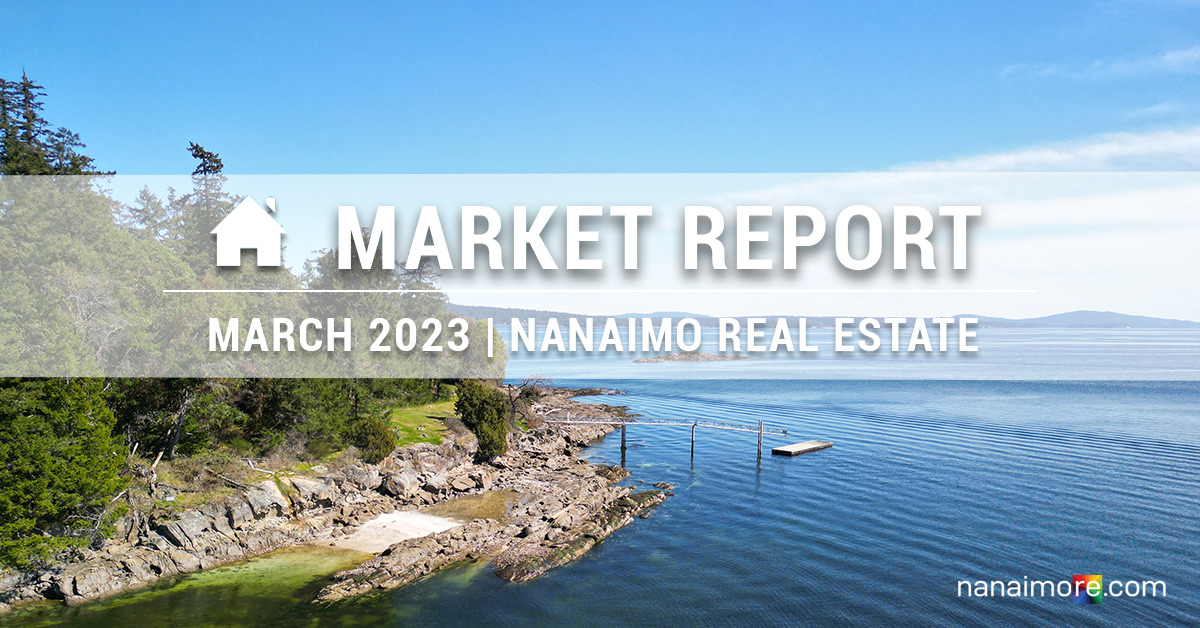 Last month's real estate statistics for single-family home sales in Nanaimo show signs that we're returning to a seller's market. Though there are examples of sellers accepting offers below the asking price, many examples of bidding wars also occurred during March 2023. Pent-up buyer demand and stabilization of mortgage rates are the current driving factors of demand in the Nanaimo real estate market.
In 2019, before absurdly low-interest rates and people buying a home at any cost, the average sale price for a single-family home was $576,000. During the peak in 2022, the average sale price for a single-family home was $934,000. This 62% increase is the fasted rising market value for homes in the history of Nanaimo.
With the Bank of Canada setting interest rates nearly three times what they were during the pandemic, will we return to pre-pandemic prices? Unfortunately, for first-time home buyers, the answer is no.
Since mortgage rates were raised last year, many people have been hoping for a real estate crash that would reset home prices to affordable levels. It's understandable, given that our home prices are some of the highest in Canada, making home ownership unattainable for many. These costs hit first-time homebuyers the hardest as they have no previous home equity to finance a purchase which many homeowners take for granted.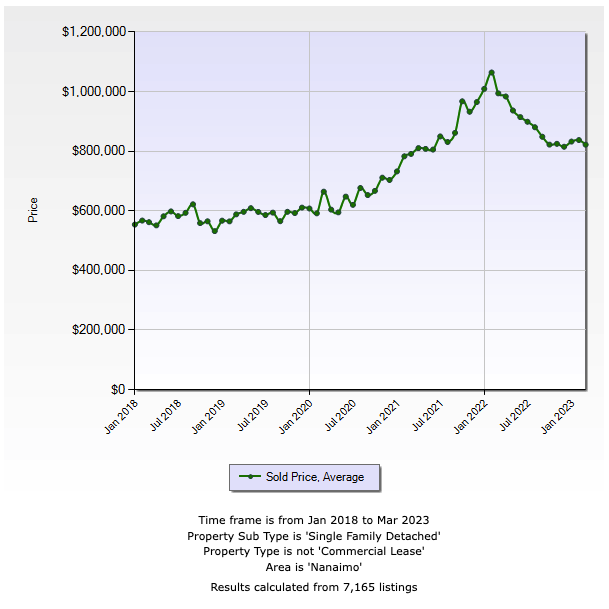 In 2023 the Average sale price for a single-family home in Nanaimo has been roughly $830,000. This has held constant for over six months, from October 2022 to March 2023. This price has dropped 11% since the peak in 2022 and is not predicted to drop further this year. Gone are the days when a first-time homebuyer could use the first homebuyer credit to purchase a single-family home that qualified at under $500,000.
So why is this happening? The housing supply is low and has been for decades. House prices have risen exponentially since 1995, roughly when the federal government cut funding to build affordable housing. Between 15,000-20,000 homes were built annually across Canada for low-income housing. As this tapered off into the 2000s, low-income homebuyers now needed to compete with more qualified buyers. Fast forward 25 years, and it's easy to see why we currently have a 500,000-unit housing shortfall in Canada and bidding wars.
New Listings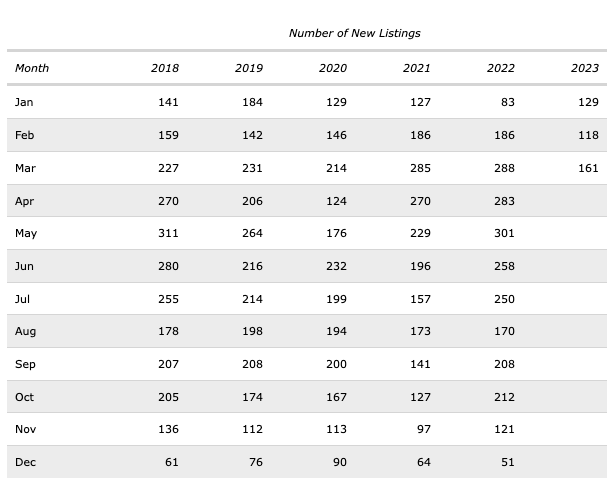 In March 2023, the number of new single-family listings was only 161, a decrease of 44% compared to last year when 288 new listings became available. Demand is increasing, creating competition between buyers looking for the perfect island home. This trend hopefully will change after Easter Long weekend when the spring real estate market begins and supply increases.
Average Sale Price | Single-Family Home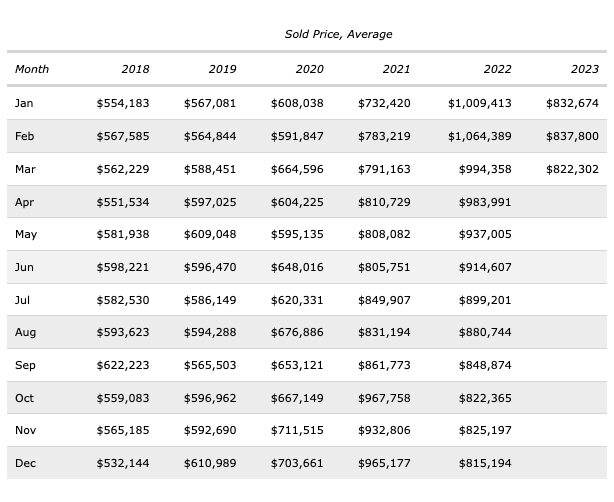 Home prices remain stable, with a single-family home's $822,302 average sale price in March of 2023. For the past six months, the average single-family home sale price has been hovering around $830,000. We have now hit the bottom of the price drops, and, If this trend continues, we could see prices rise again by the end of the year.
Average Listing Price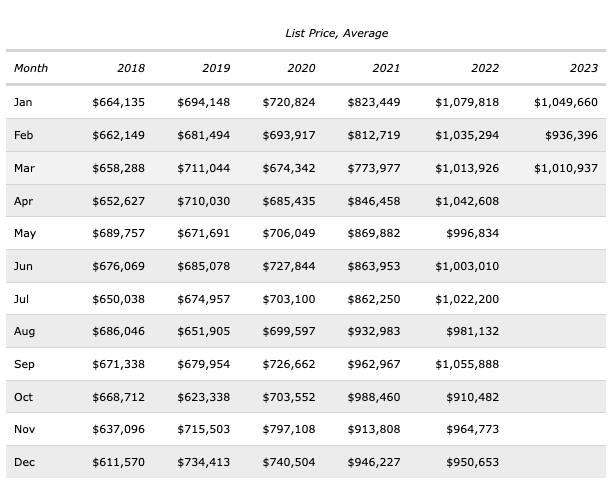 Evidence that prices are already starting to rise is reflected in the average listing price of $1,010,937 during March 2023. This is nearly on par at the peak of 2022. Though we see less desirable homes for lower prices, exceptional properties like waterfront homes and acreages are selling at a premium. We currently see the most competitive bidding for homes between $750,000-$950,000.
Days on Market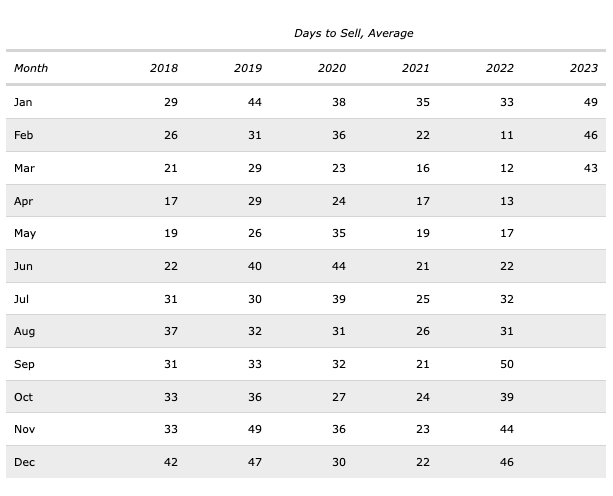 The number of days to sell a single-family home decreased as buyers returned to the Nanaimo real estate market. On average, it takes Forty-three days to sell a home in March 2023. This is a welcome opportunity for homebuyers, as last year, a home was selling in 12 days.
Percentage Achieved of Asking Price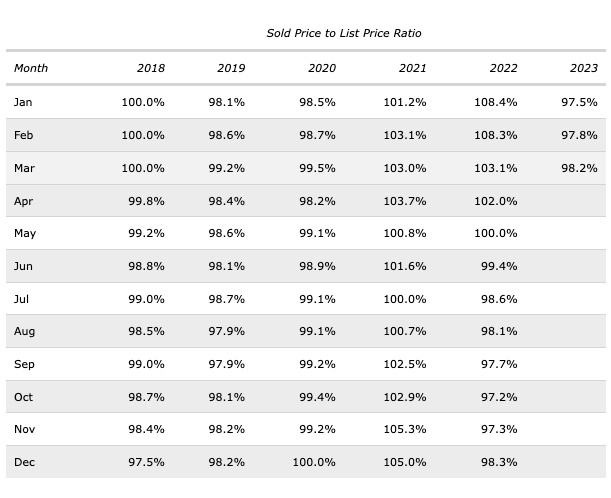 The percentage achieved of seller asking price rose in March 2023 compared to February. The average single-family sold for 98.2% of the asking price. As more data is collected in spring, this number will continue to rise, which will be great for homeowners and not so great for Nanaimo homebuyers.
Average Sale Price | Condos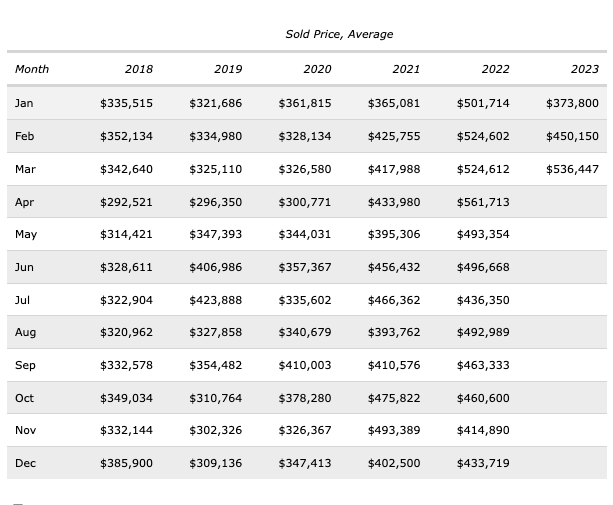 With the increased cost of single-family homes, many homebuyers are targeting condos as the cost of entry into this market is much lower. The average sale price of a 2-bedroom condo in Nanaimo reached $536,447 in March 2023. Higher than recorded in the year prior at $524,612. You can still find a condo in Nanaimo for less than $400,000. However, these may be in less desirable areas without an Oceanview.
Average Sale Price | Townhomes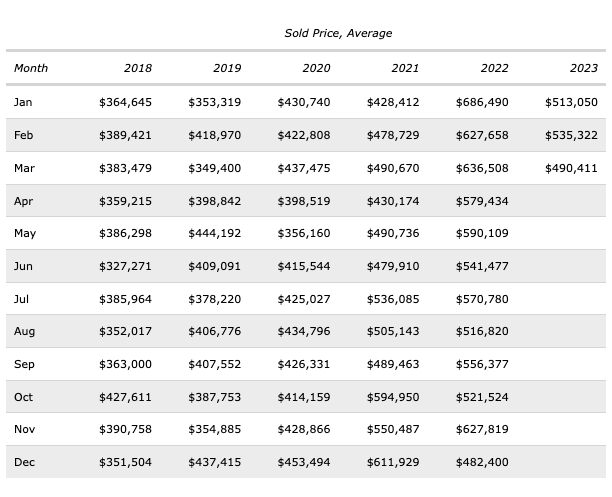 In March 2023, the average sale price of a townhome fell in Nanaimo to $490,411 from $535,000 in the previous month. This number may be lower due to low-cost townhomes in South Nanaimo coming on the market. North Nanaimo Townhomes remain high at a $560,000 average sale price.
The Future of BC Real Estate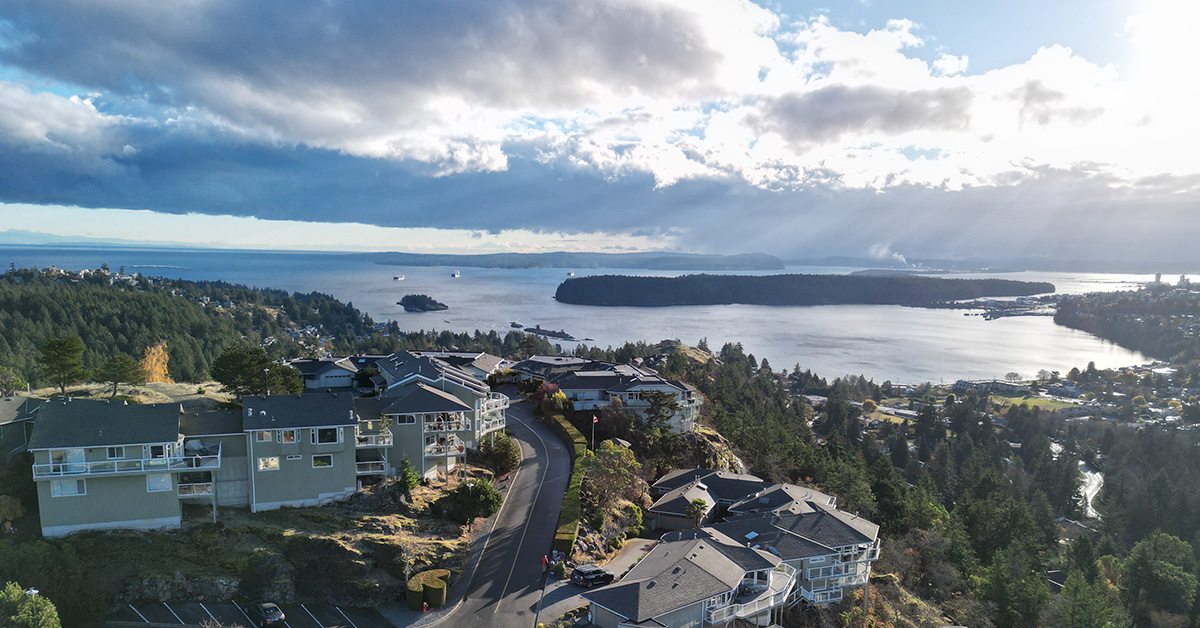 The BC Provincial Government released a 30-point plan to combat the housing crisis in 2018 affecting homebuyers and renters. In the Homes for BC Plan, the forward written by Selina Robinson, minister of Municipal Affairs and Housing, states, "Home prices didn't spike overnight, and our housing problems can't be fixed with a single budget. It will take years of sustained action to bring housing affordability home." It seems affordable homes will be a dream realized by future generations, and current homebuyers will continue to struggle.
Currently, the BC Government is looking to change municipal bylaws to increase the housing supply of what they're calling the "missing middle." Critics have already pointed out many concerning issues with the proposed plan, as this will allow the single-family dwelling to increase density allowing 2nd, 3rd, and even 4th suites to be built on one lot. This will allow heavy densification in quiet neighbourhoods and smaller living spaces for those who can't afford a home.
Details are few and far between on how these regulations will affect Nanaimo, but there is a benefit to many current local homeowners. Nanaimo has a high amount of unauthorized suites currently being used as rentals. The Government is offering an up to $40,000 loan, of which 50% can be forgiven if specific criteria are met for renting the improved property. This solution could correct many unsafe suites currently rented in Nanaimo, BC.
In the coming years, we could see the density in family neighbourhoods increase significantly, which could have conflicting effects on homeowners' property values. Multiple-unit homes could sell for more due to rental income potential, and houses without suites could decrease in value as the neighbourhood is no longer a quiet and safe place to live.
Nanaimo Spring Real Estate Market
For now, Nanaimo is an amazing place to live. Many people will be relocating with their families to retire and attend school. The best time to sell your home has arrived now that spring is here. If you have questions regarding Nanaimo real estate or selling your Vancouver Island Property, visit our YouTube channel. We feature monthly videos about living the island life and real estate. If you have a specific question for Scott, visit our contact page.
If you are curious about your home value, visit www.nanaimovalue.com to learn more about home market values. And if you'd like to find the perfect family home, visit our communities pages to see the latest Central Vancouver Island Real Estate.