December 2022 Real Estate Market Report
Posted by Scott Lissa on Thursday, January 5, 2023 at 11:03:37 AM
By Scott Lissa / January 5, 2023
Comment
Multiple Offers Could Return in 2023
Nanaimo Homebuyers and a low housing supply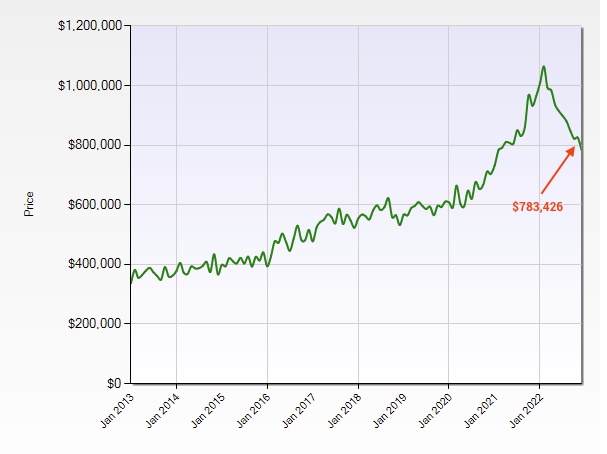 The average home sale price in Nanaimo continued to decline in December 2022. Though this was expected, many other statistics show a growing demand despite increasing interest rates. We may be approaching the intersection between decreasing prices and consumer demand. Many home buyers have been sitting on the sidelines, waiting for the perfect time, and it may be arriving in early 2023.
Nanaimo is a desirable market as it attracts people looking to escape colder climates during winter. Many retirees purchase homes by liquidating their assets before relocating to Vancouver Island, negating the need for a mortgage. These cash buyers have paid little attention to the Bank of Canada's unprecedented interest rate increases, which will not affect their purchase decision.
Statistically, December is always a slower month for real estate. Due to colder temperatures, short days, and the holiday season, real estate sales have historically decreased this month. If you're selling a home during this time, it's usually because you have to, not because you want to. However, for homebuyers, viewing homes when the weather is horrible is ideal, as leaks are easy to spot, and damage is identifiable when there's less foliage.
Anecdotally I've heard various stories of buyers missing out on properties as they were outbid during the holidays. Given the current state of the market, this was not expected by anyone. Could we be returning to a seller's market because of the declining supply of homes? We will know in 2023.
AVERAGE NANAIMO SALE PRICE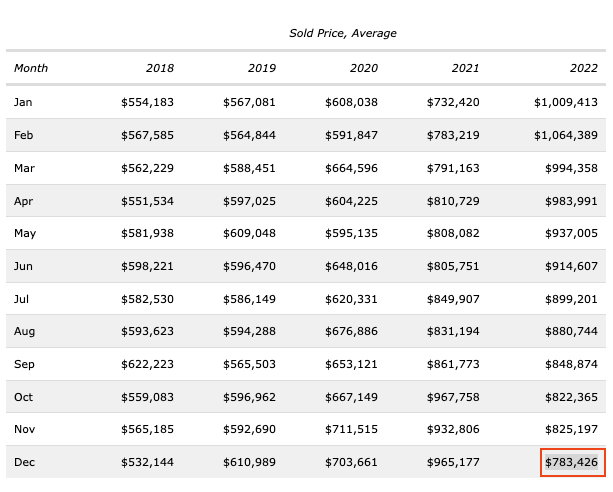 The average sale price of a home fell to $783,426 in December 2022 from $825,197 the previous month. This drop is still nearly $80,000 higher than the average sale price in 2020 before the full effect of the COVID pandemic was known.
ACTIVE NANAIMO LISTINGS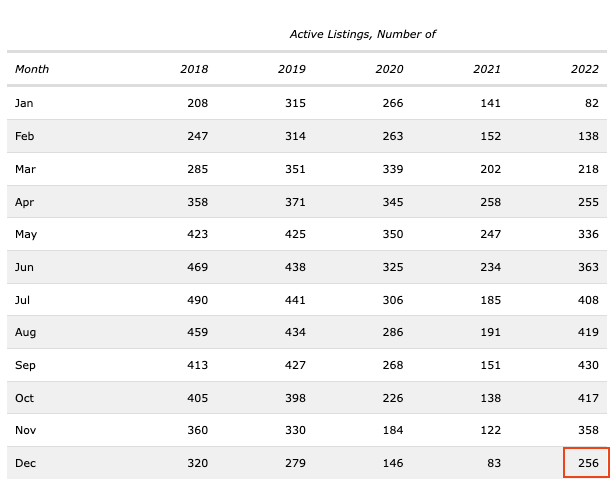 The active number of listings fell drastically to 256 in December 2022 from 358 the month prior. This is much higher than December 2021; it falls below the pre-pandemic number of active listings in 2018 and 2019.
NUMBER OF DAYS TO SELL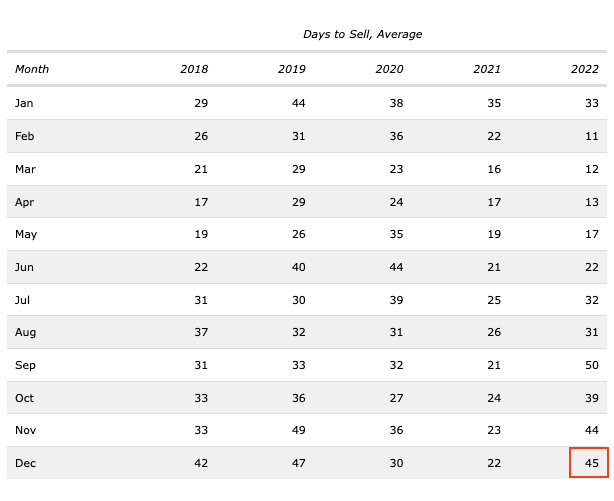 In December 2022, the average number of days to sell a home remained stable at 45 days or roughly six weeks. This, again, is lower than recorded in 2019, which shows a trend of things returning to a more balanced market for buyers and sellers in Nanaimo.
TOTAL NANAIMO NEW LISTING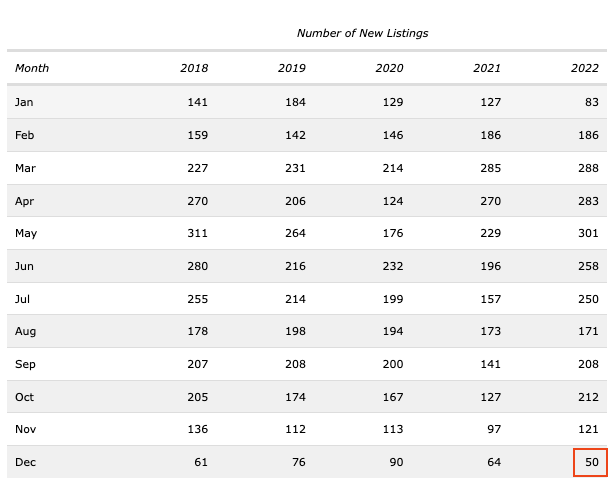 The number of new listings is where we start to see an incredible shift in the Nanaimo real estate market. Only 50 new listings were added in Nanaimo in December 2022. This is lower than ever seen in the previous ten years.
TOTAL HOME SALES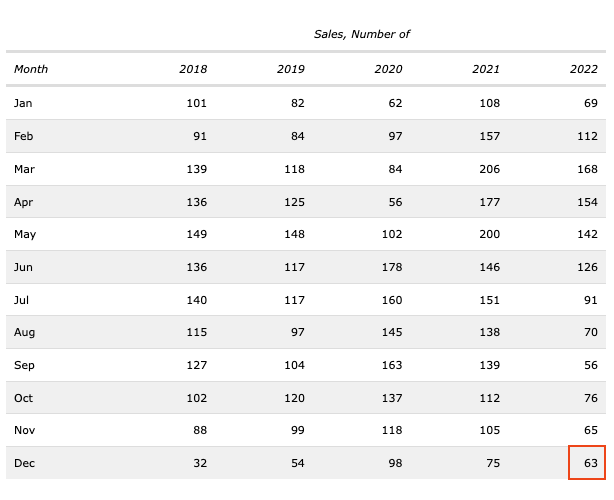 Nanaimo single-family home sales were robust in December 2022. 63 homes sold which are only 12 fewer than in December 2021. This is considerably higher than in 2018 and 2019.
The statistics above paint an exciting picture that will be easier to interpret in the spring of 2023. Home prices inevitably fall during December and January as fewer homes are on the market, and sellers are typically more desperate to sell. However, the substantial decrease in new listings and the drastic increase in sales could signify that we're heading towards multiple competing offers in the late spring.
Many homebuyers plan to relocate to central Vancouver Island and purchase in 2023. The vast majority of these homebuyers are buying cash and hoping to find a deal, with prices dropping roughly 20% from their peak in early 2022, before the aggressive rate increase by the Bank of Canada. Many of these buyers are retirees and will be competing with families for the same homes.
We predict that a backlog of buyers will enter the real estate market in mid-2023 creating another overheated selling season despite the recent restrictions and cooling-off measures instituted by the Federal government. An increase in home supply could stop this from occurring. Still, given the high mortgage rates, it's unlikely that current homeowners will want to sell and purchase another home at a substantially higher monthly payment.
If you're planning on relocating to Nanaimo from another country, make sure you read our latest blog on the two-year Foreign Buyers Ban that came into effect on January 1st, 2023. This will restrict the 1.1% of foreign homebuyers that purchased in British Columbia in 2021. Will this affect the home prices in Nanaimo during 2023?
And don't forget to check out our latest videos on Youtube. Make sure to like and subscribe so you can see our weekly videos about neighbourhoods, natural wonders, and information about living here on Vancouver Island.
Latest Videos about Nanaimo Real Estate