Have Nanaimo House Prices Hit Rock Bottom - August 2022 Real Estate Market Report
Posted by Scott Lissa on Monday, September 5, 2022 at 12:23 PM
By Scott Lissa / September 5, 2022
Comment
Nanaimo House Prices Hit Bottom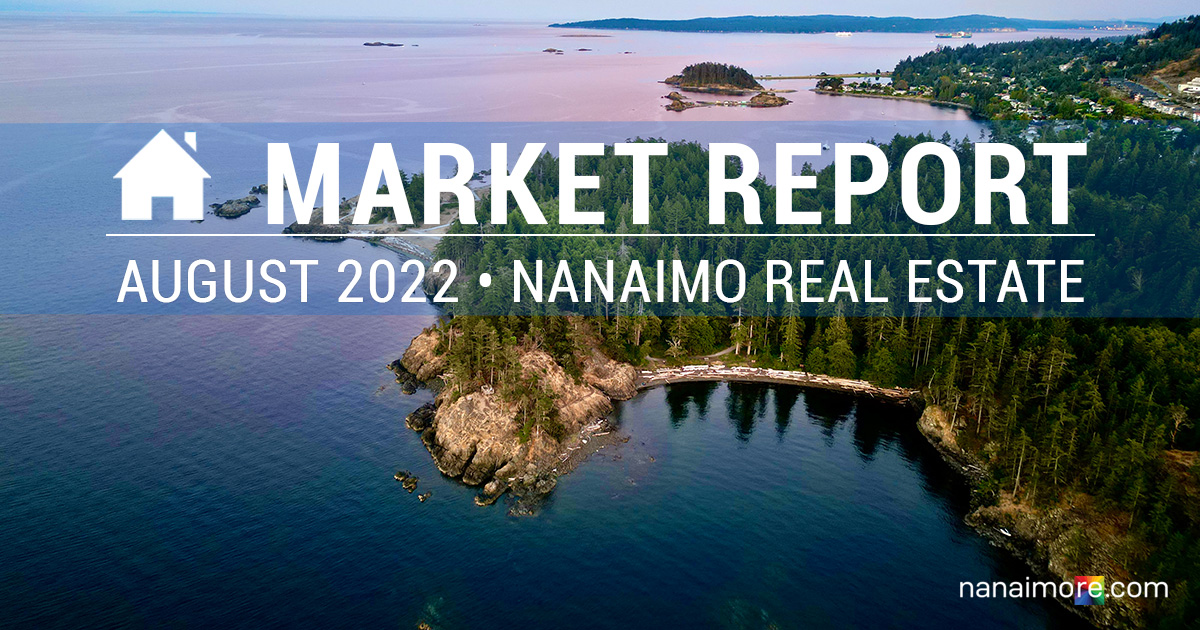 August 2022 Real Estate Market Report
Total Single Family Home Sales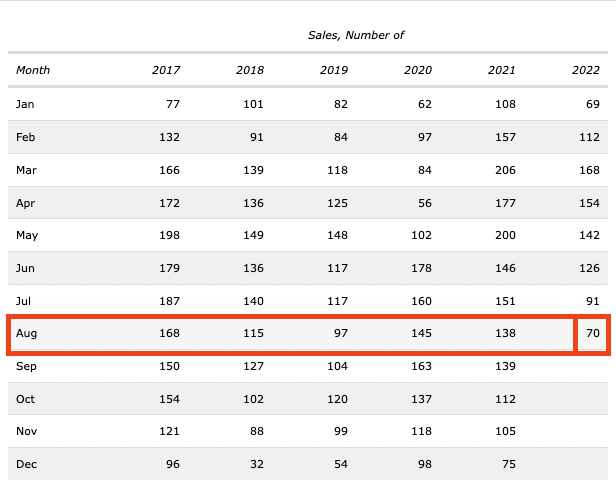 August saw sales drop nearly 50% for single-family detached homes in Nanaimo compared to August 2021 and 2020. There were only 70 houses that sold in August. 21 fewer than the previous month, which saw substantial decreases as well. Homebuyers are waiting for the prices to drop, and that may happen depending on what the Bank of Canada does with interest rates on Wednesday, September 7th, 2022.
If you want to see last month's Market Report pulled from social media for being too political, please click here: JULY 2022 MARKET REPORT. Please note that this doesn't cast blame on any particular political party. All politicians seem to have irresponsible spending habits that should be critiqued.
We work with many homebuyers moving to Vancouver Island. Hundreds of weekly phone calls with many video showings of fantastic west coast homes perfectly represent their dream home. However, everyone is hesitating. Many people believe that real estate prices will drop substantially, which may have already occurred.
Median Sold Price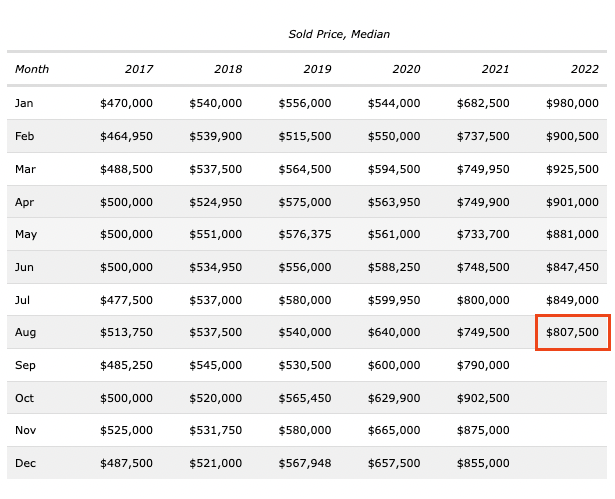 Many analysts are predicting a 25% drop in home prices in Canada, painting with a broad brush as Canada has many diverse real estate markets with varying prices and consumer demand. However, considering the median home price sold in Nanaimo was only $800,000 in August, that's a 22% drop from the median home sale price of $980,000 in January of this year.
If you want to see homes with price reductions on central Vancouver Island, click here to see the LATEST PRICE REDUCED SINGLE FAMILY HOMES. And if you'd like weekly email updates for price reduction in Nanaimo, Parksville, Qualicum Beach, Duncan or any Vancouver Island Community, please visit our CONTACT US page and let us know!
Why is this percentage increase drop significant? We may have reached the bottom. Median home sale prices are only $50,000 above the price sold in August of 2021. Most home sellers will not accept much lower home offers and remove them from the market. Many sellers, like the buyers, may choose to wait out this downturn and stay in their homes, further reducing an already low house supply plaguing the Vancouver Island real estate market.
Days on Market to Sell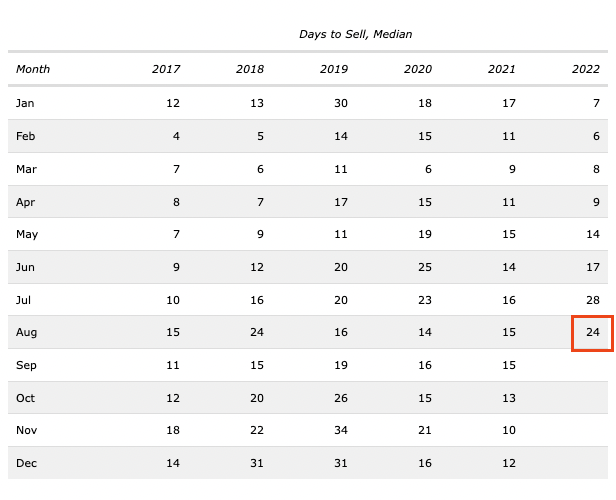 Homes are still selling relatively quickly, with the average days on the market being only 24 days or just over three weeks. That's still ridiculously fast when a regular market expects home sales to take 45-60 days. The demand to move to Vancouver Island from homebuyers is extremely strong, and retirees are moving here in record numbers. The only homes on the market for extended periods are new construction homes, as builders have kept their prices high due to increased building, labour and land costs.
Percentage Archived of Asking Price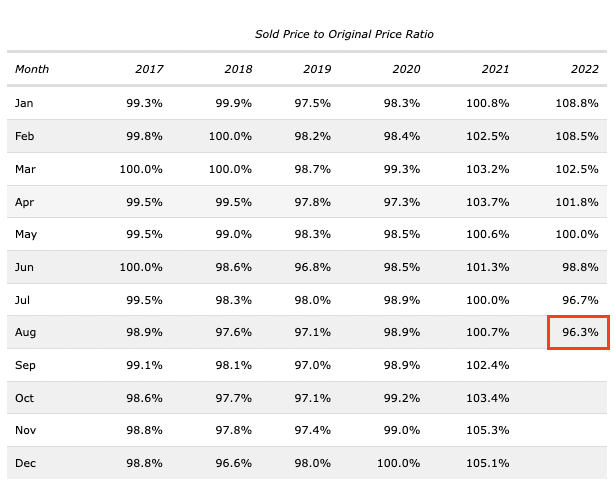 Another factor that shows we're nearing the bottom of the price drops is the percentage achieved of the asking price (%AP). This statistic has fallen from home receiving 108% of the asking price to 96.3%, which falls into historical norms before the COVID pandemic. Sellers are still setting their sale price above market value but are accepting offers below as bidding wars are a thing of the past.
The coming months' real estate stats will continue to fall due to seasonal norms during the latter part of the year. As temperatures drop and children return to school, home sales will continue slower until a complete drop-off in December and January. We won't fully know what the market will look like in 2023 until we see homebuyers return to the market in early spring.
This will all be dictated by the Bank of Canada's interest rate manipulations, which have been drastic due to frightening inflation, which began to decrease from 8.1% to 7.6% in July 2022. Average inflation is below 2%, so we have a long way to go. But if you're waiting to buy the perfect home and need a mortgage, you'll be getting far less loan value and fewer options for homes to buy for the next six months.
If you want to learn more about Vancouver Island, Visit our YouTube page, where we post weekly videos about different communities, things to do, and secret locations only locals know about. You could learn about the top 5 ANNOYING THINGS IN NANAIMO or community guides for QUALICUM BEACH or LANTZVILLE. Please don't hesitate to ask if you have a particular video you'd like to see.