5 Tips to Win in Nanaimo Bidding Wars
Posted by Scott Lissa on Tuesday, February 8, 2022 at 8:57 PM
By Scott Lissa / February 8, 2022
Comment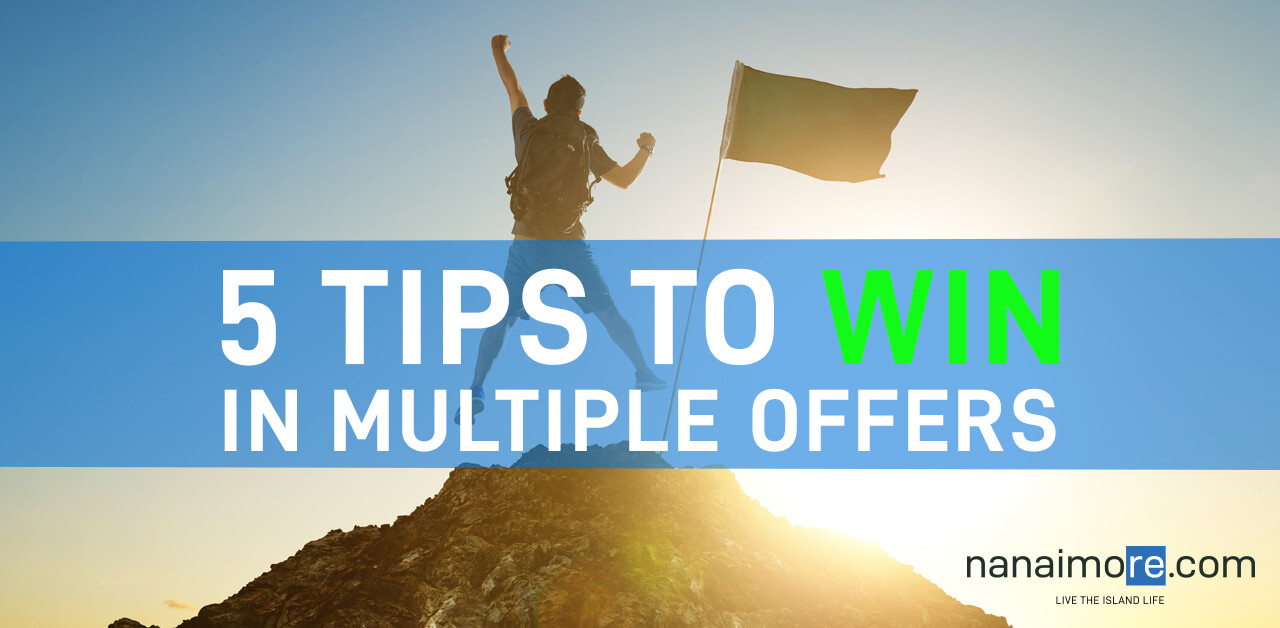 5 Tips to Win in Nanaimo Bidding Wars
It's difficult being in Nanaimo's overheated real estate market when all homes get multiple offers. I get it. It's not easy for me either. But there are things we can do as realtors to assist our clients in getting accepted offers.
Here's a list of five things you can do to improve the likelihood that your offer will be accepted over all the others!
1. Be the first buyer to view the property if possible. If you cannot attend yourself, have your realtor visit the property as soon as possible. Your realtor can look for issues with the property and schedule licensed professionals such as roofers, foundation experts, or landscape engineers to get quotes on potential problems identified during the viewing. This allows you to analyze the property before submitting an offer on a lemon. One of my favourite sayings is: "Quotes are free!"
2. Do a pre-offer inspection. Home inspections are instrumental in guiding homebuyers about the property's condition. Typically these are done after getting an accepted offer. However, due to the amount of condition-free offers being submitted nowadays, it's best to have a home inspection before you submit your offer. Make sure your realtor has an excellent relationship with a Nanaimo home inspection company and have them pre-book an inspection. The sellers will have to approve this inspection which typically takes three hours. You don't even have to attend the review A report will be emailed about 12 hours. It's $600 well spent that could save you tens of thousands.
3. Get all the documents! Documents such as titles, property disclosure statements, and other important real estate documents can be acquired before you even visit the property. Get these documents as soon as possible and review them with your realtor, and contact a lawyer if necessary to get guidance on legal ramifications of titles and land usage. It would also be a great idea to make a quick call to the city of Nanaimo or The Regional District of Nanaimo to ensure there are no planned local improvements or issues filed about the property.
4. Submit your deposit into trust: 5-10% deposit is customary with most real estate offers. Typically this deposit is received after the offer is accepted. However, you can submit your deposit into trust with your real estate brokerage before submitting the offer. This shows sellers that you are prepared and ready to move forward because you've done your due diligence and arranged your deposit before submitting your offer. If your offer is not accepted, the deposit can be returned to you through your realtor within a few days.
5. First offer in. Most homes will have a set offer date that all contracts must be submitted. It's best practice to submit your offer before this date and leave the offer open until the date of seller review. This has two significant benefits. Firstly, the seller will allow you to revise your offer if a second offer comes in. In this case, you could write a lower offer initially, and once the second offer comes in, revise your offer to reflect the maximum you're willing to spend. Second, the sellers' agent will notify the other parties that an offer has already been received. This can discourage other buyers from submitting an offer as one has already been submitted. Thirdly, this can help the seller pay attention to your offer over all others as it was the first submitted.
These steps can help you create a more substantial offer and make you more confident in the home you will purchase. In the past, you could enter an offer and do your due diligence before you chose to purchase. In today's marketplace, you do your due diligence before submitting your offer. In Nanaimo, The most organized typically win in multiple offer situations.
Make sure to discuss these strategies with your realtor, as different homes require different levels of attention. If you have any questions or would like to discuss this in detail regarding your home purchase in Nanaimo, contact us today.